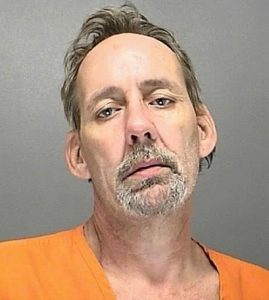 Volusia County — A man who reported finding an abandoned newborn baby wrapped in newspaper outside of a convenience store, was actually the man that left the baby there in the first place.
According to reports, Ralph Garlick Jr.,53, had told deputies he heard the sound of a baby crying and discovered the infant girl around 2:30 a.m. Monday, outside the DeBary Food Mart on South Charles R. Beall Boulevard. Garlick later admitted he lied about finding the baby, and told investigators his girlfriend had given birth to the child earlier that morning at the Oak Shade Apartments, in Orange City.
Garlick, who says he is not the father of the baby, claims he was trying to bring the baby to a safe location because his girlfriend didn't want the baby she had just given birth to, according to deputies.
Reports show Garlick also lied about his own name, he originally identified himself as Charles Garlick, the name of his deceased brother.
The baby was taken by ambulance to Arnold Palmer for Children in Orlando, after a newspaper delivery man whom Garlick had flagged down for help called 911.
The delivery man, Anthony Ackeridge, had Garlick bring the baby into his van while he called for help.
A spokesperson for the Florida Department of Children and Families said the baby was in good health at Winnie Palmer Hospital, where she will remain for the next several days.
DCF released this statement Monday afternoon:
"We believe this setting offers the best quality of care for her at this time. Her admission allows child protection officials the opportunity to further explore all of the circumstances which led to her discovery, confirmation of the identity of the birth parents and intention of the actions of those involved, before making any final and legal decisions on the newborn's behalf."
The child's mother was later located and taken to Central Florida Regional Hospital in Sanford. Investigators said they were currently interviewing her to get her side of the story. Further details on the mother have not yet been released.
In the state of Florida, Safe Haven laws allow birth parents to safely drop off unwanted children up to 7 days old at a fire station or hospital without facing charges. DCF said infants surrendered through the Safe Haven Law are directly placed with approved adopted parents through private adoption agencies, and do not enter the foster care system.
Temperatures were in the 30's at the time Garlick tried to leave the newborn behind, just hours after she was born.
Garlick was arrested and charged with Knowingly Giving False Information to Law Enforcement during an investigation, and Resisting an Officer Without Violence.
Garlick was booked into the Volusia County Jail and is being held on a $5,000 bond.
Please follow and like us: