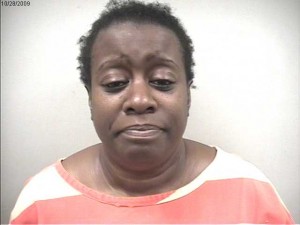 Marion Oaks, Florida — Mary Alexander, 47, of Ocala is still claiming charges against her are "made up." As Wesley Snipes did during his trial for failing to pay taxes, Alexander is also claiming Marion County is a racist county. Alexander is claiming the Marion County Sheriff's Office is targeting her because she is black.
In June, Alexander wrote a letter to Jesse Jackson and Reverend Al Sharpton claiming she is being targeted because she is a black "business woman" after she was arrested and charged with felony fraud and operating an illegal elderly home in Marion Oaks.
Alexander was arrested again on December 10, 2013, and charged with organized fraud.
Alexander's attorney, Todd Hopson, claims Alexander didn't break any laws. Hopson said they will be able to prove she used the stolen EBT cards legally.
Victims have previously stated they didn't apply for Food Stamps, instead, Alexander applied using their information then used the EBT cards.
During the execution of a search warrant, investigators found ten (10) Electronic Benefits Transfer (EBT Food Stamp) cards in Alexander's purse and none of the cards belonged to her.
Investigators working with the United States Department of Agriculture learned that Alexander used at least two cards on 35 different transactions to purchase more than $3,000 in various items. Investigators said Alexander did not have permission to use any of the cards.
The National Action Network Central Florida chapter, founded by Reverend Al Sharpton, said they are standing behind Alexander.
Ocala Post was contacted by the NAACP following the first article on Alexander and they demanded Ocala Post take it down. Ocala Post respectfully denied that request.
Residents of Marion Oaks, who do not wish to be identified in fear of retaliation, said they are disgusted that Alexander is using race to try and avoid felony charges. One resident said, "She abused the system and she abused the elderly, both physically and mentally, she should pay for her crimes."
The investigation is ongoing.
Please follow and like us: