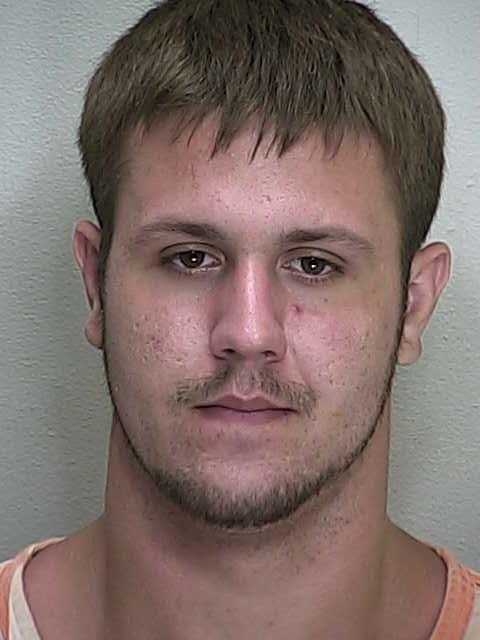 Ocala, Florida — An ongoing fraud investigation by the Marion County Sheriff's Office lead to the arrest of the victim's own grandson yesterday.
It all started when the 77-year-old grandmother reported her Sam's Discover Card showing charges for purchases she did not make.
The victim stated that on September 8, 2014, she noticed one of the charges was for a clipboard that her grandson, Duran S. Gilbert, 25, was in possession of. When she confronted him, she stated he became defensive and started calling her names.
According to reports, the victim told Gilbert to leave her residence.
The next day, September 9, 2014, she noticed a tire on her vehicle had been slashed. It cost her $91.00 to replace it.
On September 9, the victim had her locks changed. Shortly after having her locks replaced — on the same day — Gilbert broke into her home. The victim advised Gilbert to leave immediately or she would call the police, to which he responded, "Call the police and I will kill you."
Before leaving the property, Gilbert stole the victims Echo edger valued at $297.00 and her white Club Car golf cart valued at $450.00.
Further investigation revealed that Gilbert used his grandmothers credit cards at Game Stop, Wal-Mart, Murphy Gas Station, and Sam's Club totaling purchases of $1969.83.
A few days later, the grandmother's credit card companies provided the Sheriff's Office with details of more transactions.
They are as follows.
Wal-Mart:
08-02-14 $51.83 and $60.00 cash back
08-11-14 $5.18 and $100.00 cash back
08-12-14 $7.84 and $100.00 cash back
08-12-14 $63.44 and $60.00 cash back
08-13-14 $56.04 and $100.00 cash back
08-17-14 $110.40
08-18-14 $114.61 and $100.00 cash back
Sam's Club:
07-26-14 $115.96
07-30-14 $24.26
08-01-14 $30.11 and $60.00 cash back
08-05-14 $260.47 and $60.00 cash back
08-07-14 $49.74 and $60.00 cash back
08-11-14 $49.78
08-11-14 $51.99 and $100.00 cash back
The grandmother stated she waited to report it because she was scared. She also stated that she never gave her grandson permission to use her credit cards.
On September 29, 2014, after obtaining surveillance video of the purchases, an interview was conducted with Gilbert.
He told deputies that he had permission to use the credit cards and that he had given the cash to his grandmother.
When asked if he had permission why did his grandmother question him, he said, "I don't know, it's mind boggling to me."
Gilbert was arrested and charged with Felony Grand Theft, Felony Fraud- Illegal Use Of A Credit Card (x14), and Misrepresenting Self- Personal ID Fraud (F).
He is being held on $32,000 bond.
Please follow and like us: