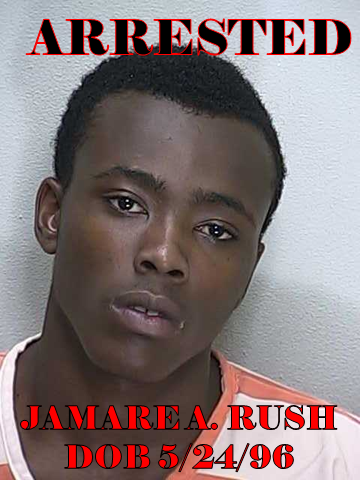 Ocala, Florida — (Official Press Release) From Friday night, September 26, 2014, to Sunday night, September 28, 2014, there were four (4) arson cases involving the throwing of Molotov cocktails at homes.
In one case, there was also a gasoline soaked rag stuck into the gas tank of a car that was parked in the driveway of a home and lit on fire; luckily the residents discovered the fire immediately and extinguished it before anyone was seriously injured, or property destroyed.
The incidents were as followed:
9/26/14 at 9:19 PM, 920 SW 5th St.
9/26/14 at 10:06 PM, 727 NW 6th Terr.
9/27/14 at 2:41 AM, 1620 NW 17th PL.
9/28/14 at 11:33 PM, 1620 NW 17th PL.
On Monday, September 29, 2014, Ocala Police Department Detective, Melissa Buetti, obtained a warrant for the arrest of Jamare A. Rush, 18, for one (1) count of Arson to a Structure and one (1) count of Arson to an Occupied Dwelling in reference to the case at 727 NW 6th Terr., where a Molotov cocktail was thrown at the house and the gasoline soaked rag was place in the gas tank of the car.
Officers located Rush on that same date and arrested him on the warrant.
At his first appearance on September 30, 2014, Rush was denied bond by the judge.
Detectives are continuing to work cooperatively with Ocala Fire Rescue Arson Investigators on the remaining cases.
Anyone with information about the arson's is asked to contact the Ocala Police Department at 352-369-7000. Tips can also be submitted through their mobile app, MyPD. Tips may also be submitted through Crime Stoppers of Marion County at 352-368-STOP(7867), at www.ocalacrimestoppers.com , or by texting keyword 368STOP to 274637.