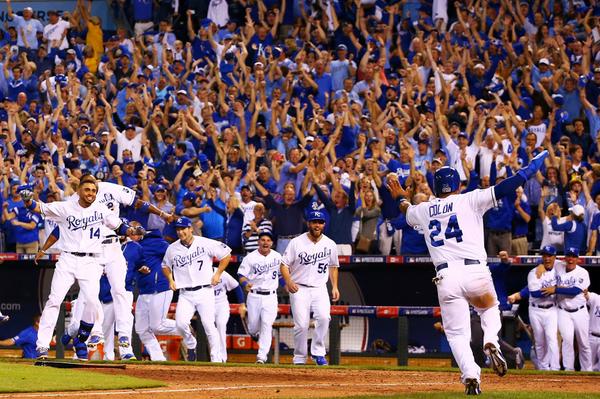 After winning their first playoff game in 29 years, the Kansas City Royals partied like it's 1985.
It was in no way easy for the Royals as they were down in the ball game three separate times. It took the Royals 12 innings to finish off the A's 9-8.
Catcher Salvador Perez was the hero in the game as he hit the game winning RBI into left field, driving in the winning run from second. A's third baseman Josh Donaldson came within inches of making a spectacular diving catch to save the game.
Oakland A's first baseman Brandon Moss provided most of the run support for his team as he went 2-5 with 2 runs, 2 home runs, and 5 RBIs. Both of Moss' home runs gave the A's the lead, one of James Shields in the first to give the A's a 2-0 lead and one off Yordano Ventura to give the A's a 5-3 lead.
The Royals entered the bottom half of the 8th inning down four runs. The Royals scored three runs in the 8th inning and one run in the 9th before back-to-back strikeouts stranded the winning run on third in the bottom of the 9th.
Alberto Callaspo singled to left field to score Josh Reddick to give the A's a 8-7 lead in the top of the 12th inning.
After a Lorenzo Cain ground out, Eric Hosmer came through with a triple to left field; Hosmer eventually scored the tying run on a Christian Colon infield single. Colon later stole second with two outs to set the stage for Salvador Perez's game winning hit.
Small ball and speed was a major part in the Royals game plan to get runners in scoring position, as they stole 8 bases in the game and sacrificed bunted 4 times
The A's seemed to just collapse after trading Yoenis Cespedes to the Boston Red Sox. The A's were 65-35 with him in the starting lineup this year and they finished the season 23-39, so the A's blowing a 4 run lead in the 8th inning seemed like a perfect end their season.