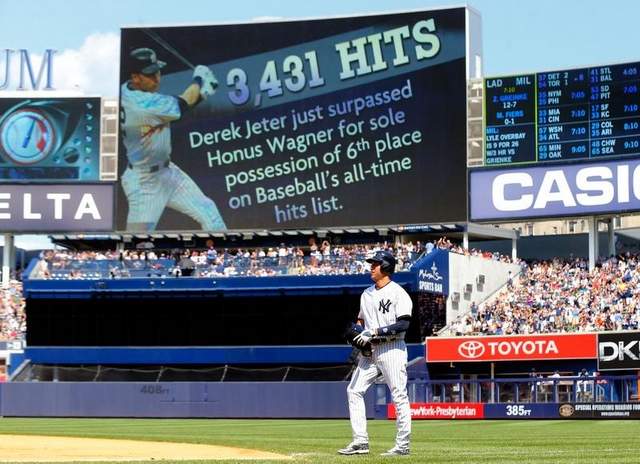 Derek Jeter passed Honus Wagner for 6th all time on baseball's all-time hits list with a soft infield single in the 6th inning during Saturday's game versus the Indians. Jeter's 3,431st career hit came off Indians' starter Corey Kluber with 0 outs and a 0-1 count.
Jeter announced his retirement at the beginning of the season. If Jeter sticks to his retirement plans, Wagner should be the last name Jeter passes as 5th all time is Tris Speaker with 3,514 hits.
The Yankee Stadium crowd gave Jeter a standing ovation after the hit. Jeter does not know what he will do with the ball yet; he just knows that he will put it somewhere safe.
The Yankees ended up losing the game to the Indians 3-0 as Jeter's hit was the only highlight of the day for the Yankees' offense.
Jeter continues to put up impressive numbers this year for a 40 year old, as he is batting .276 with 3 home runs and 30 RBIs in 103 games played.
—By Brandon Wilson—
Please follow and like us: