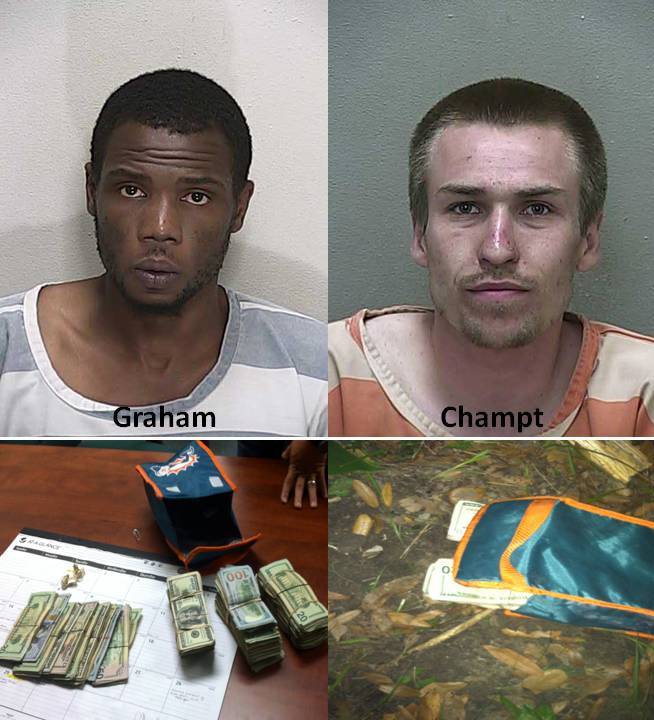 Ocala, Florida — On April 16, 2014 Deputy M. Bowers, K9 Deputy J. Nix of the Marion County Sheriff's Office Interdiction Unit, and Deputy T. Lideratore of the Tactical Investigation Unit, observed a grey Lincoln Town car exit the south side parking lot of the Advanced Discount Auto Parts store located at 1601 West Silver Springs Boulevard, without stopping or slowing down.
The vehicle was turning right (west) onto West Silver Springs Boulevard and crossed over the first lane to the inside westbound lane without using a turn signal.
The vehicle then traveled westbound to the intersection of West Silver Springs Boulevard and NW 27th Avenue. While at the intersection, Deputy Bowers activated his emergency lights on his marked Patrol Car in an attempt to conduct a traffic stop.
According to reports, the vehicle then turned right (east) on NW 2nd Street. The vehicle accelerated and began to flee at a high rate of speed.
Deputy Bowers then activated his sirens and gave pursuit, followed by Deputy Liberatore and Deputy Nix.
During the pursuit the vehicle nearly hit a pedestrian that was walking in the roadway, the pedestrian "jumped back" to avoid from being hit, according to reports.
According to reports, the chase reached speeds in excess of 100 MPH at some points during the chase.
The driver of the vehicle ran red lights and did not stop at multiple stop signs.
K9 Deputy Watts was able to pick up the chase in the 4000 block of NW 27th Avenue where Watts performed a PIT maneuver and ended the chase.
Elliot Graham, 34, of Leesburg jumped from the vehicle and took off running. However, K9 Thor quickly put an end to the foot chase.
Graham had an active warrant for his arrest for trafficking in narcotics.
Jason Champt, 27, of Fruitland Park (driver), and Graham were both arrested and transported to the Marion County Jail.
Graham is facing charges of Resisting an Officer Without Violence and Champt faces charges of Aggravated Fleeing or Attempting to Elude a Law Enforcement Officer.
A search of the vehicle turned up $38,000 in cash.
The investigation in regards to this case and the money is ongoing.
[Last updated on April, 17 2014 at 7:15 p.m.- excess replaced the word access]
Please follow and like us: