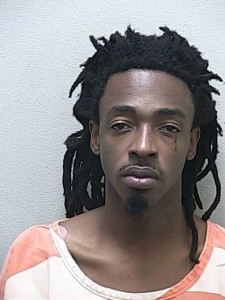 Ocala, Florida — On April 17, 2014 at approximately 2:20 a.m, Corporal Moore with the Marion County Sheriff's Office was traveling south in the 1600 block of Pine Avenue when he observed a white Hyundai traveling northbound without its headlights on.
Corporal Moore then turned his patrol vehicle around and conducted a traffic stop on the suspect vehicle.
According to reports, as Corporal Moore approached the vehicle on foot, the driver, later identified as Travis L. Weaver, 31, of Wildwood "stomped" on the gas and fled at a high rate of speed. Corporal Moore ran back to his patrol vehicle and initiated pursuit.
Weaver headed north on Pine and reached speeds in excess of 130 MPH. The vehicle was driving recklessly and ran every red light as [he] attempted to elude Corporal Moore.
As Weaver approached NW 35th Street he attempted to turn westbound, but lost control of the vehicle. Weaver hit several signs that were in the median and spun into the westbound ditch facing north.
Weaver then accelerated out of the ditch and turned west on NW 35th Street, then north on NW Gainesville Road, at which time Corporal Moore attempted the PIT maneuver.
Once the vehicle was stopped, Weaver refused to exit the vehicle and had locked the doors. Corporal Moore had to break the window and unlock the doors in order to remove Weaver from the vehicle, according to reports.
Weaver was heavily intoxicated and admitted to drinking several drinks at "Cloud 9" prior to leaving the club.
Weaver's drivers license were Habitual-Felony Revoked in September of 2003 and he has had four prior convictions for Driving While License Suspended/Revoked.
During the investigation, Corporal Moore Learned that Weaver also had three active warrants for for his arrest for the Sale/Possession of Cocaine in Sumter County.
Weaver was arrested and transported to the Marion County jail, at which time he refused a breathalyzer test.
He is being held on a $10,500 bond.