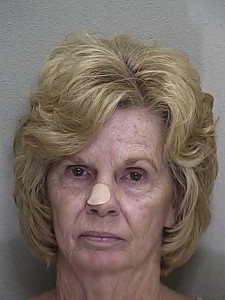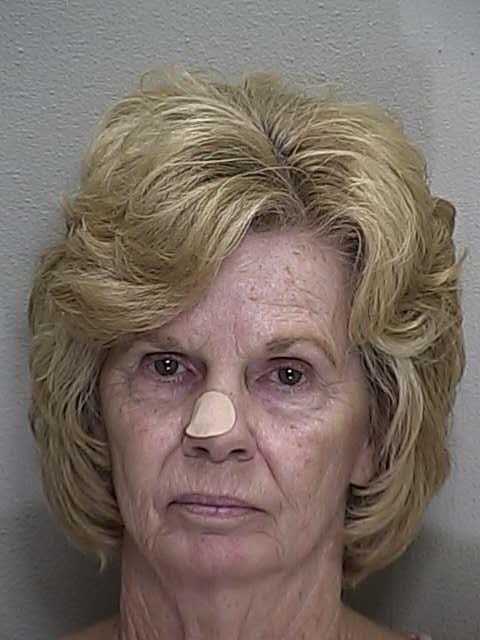 Anthony, Florida — On April 7, 2014 the Marion County Sheriff's Office received a call from a man in reference to his neighbor, Sherry Spears Wilemon, 66, shooting and killing his cat with a pellet rifle.
The man told Deputy Calvin Batts that he had not seen [his] cat "Smokey" since early Sunday Morning.
According to reports, the man ran into one of his other neighbors at the grocery store, at which time he learned that his neighbor had witnessed Wilemon shoot his cat.
Deputy Batts spoke with the witness, who stated that he was outside working on his boat when he heard what sounded like a pellet rifle "go off."
The witness said that when he heard the shot he walked out of his shed to investigate and saw a grey cat in Wilemon's driveway flopping around like it was injured.
The witness also told Deputy Batts that he saw Wilemon hiding behind a tree.
The witness said he was infuriated and was getting ready to approach Wilemon because he thought it was his cat. However he later found his cat in his shed unharmed.
According to reports, Wilemon left the cat suffering in her driveway for nearly 10 minutes as it flopped around meowing in pain.
The witness said approximately 10 minutes later he heard a second shot, and when he went to investigate he saw the neighbors son scoop up the cat with a shovel and carry it to the backyard.
Deputy Batts made contact with Wilemon's son whom told the deputy that his mom had called him and said she shot something big and it was still alive. The son, whom lives next door to him mother, said he walked to her house and removed the cat which was still alive, to the backyard. Once in the backyard he said he "put the cat down" then buried it.
Wilemon said she shot the cat because she thought it may have been getting into her trash but didn't mean to hurt it.
According to neighbors, this is not the first time that a cat in the neighborhood has sustained serious injuries.
Deputy Batts observed an injury that had already began to heal on another cat belonging to the man that was consistent with it being shot with a pellet gun. Wilemon said she did not recall shooting the mans other cat.
Due to the excessive suffering and cruel death that the cat endured, Wilemon was arrested and charged with Aggravated Animal Cruelty.
Please follow and like us: