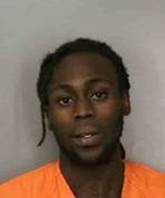 Winter Haven, Florida — The Polk County Sheriff's Office is seeking the public's assistance in locating 29-year-old Brandon Matthews of Winter Haven.
Matthews has Polk County warrants for Armed Robbery and Attempted Murder.
Detectives say Matthews already had a warrant for an armed robbery committed on August 14, 2014, on Edwin Avenue NE in Winter Haven.
Most recently, between 4:30 a.m. and 4:45 a.m. on August 23, 2014, at 11145 38th Street NW in Winter Haven, Matthews became involved in an altercation during which he fired several rounds from a handgun toward the residence, striking an adult female.
She is listed in critical , but stable condition.
Matthews is now wanted for attempted murder.
Matthews is 5'7″ and weighs approximately 164 lbs.
Detectives said Matthews is extremely violent and has an explosive temper. He also has an extensive arrest history involving violent crimes.
He is to be considered armed and extremely dangerous. If you see him do not approach him, call 911 immediately or if you have information on the whereabouts of Brandon Matthews, please contact Heartland Crime Stoppers at 1-800-226-TIPS (8477). Anonymity is guaranteed!
The Polk County Sheriff's Office is asking for your help in flushing this criminal out.