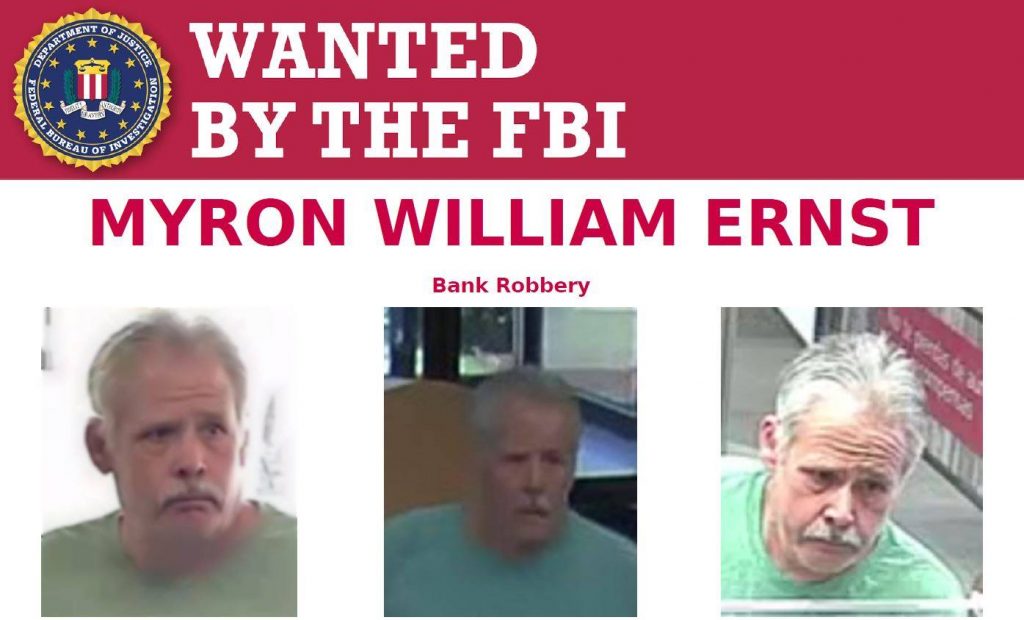 Ocala, Florida — The Ocala Police Department and FBI are seeking the public's help in locating Myron William Ernst, a suspect wanted for questioning following an attempted bank robbery.
According to police, at approximately 1:39 p.m., Tuesday, Ernst walked into the Wells Fargo, located at 3201 Southwest College Road, handed the teller a note, and demanded cash. He told the teller that he was armed and would shoot if she did not do as he asked.
Police stated that Ernst never displayed his weapon and, for unknown reasons, ran from the bank without the cash.
Ernst committed an armed bank robbery of the TD Bank, located at 6108 U.S. 98 North, Lakeland, FL on October 12, 2018. He is wanted by the FBI for a total of seven bank robberies between Florida and Alabama.
Ernst is known to be driving a newer model dark gray Ford F-150 truck.
Ernst is known to use several different names and is considered armed and extremely dangerous. Authorities said he is known for violence and a person should call 911 immediately if he is spotted.
The FBI is offering a reward of up to $5,000 for information leading to Ernst's arrest. OPD is working in cooperation with the FBI and is releasing additional images to the public, requesting assistance in locating this suspect.
If you have any information about Ernst's whereabouts, you are urged to call the Ocala Police Department at 352-369-7000, Crime Stoppers at 368-STOP, or text 274637 using keyword 368-STOP. Tipsters can also visit www.ocalacrimestoppers.com. Anonymity is guaranteed.
If you see Ernst, do not make contact and immediately call 911.
UPDATE
Ernst was captured in Lakeland Florida during a traffic stop.