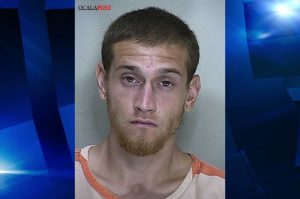 Marion County sheriff's deputies Sunday arrested a suspect who was wanted for carjacking a Pizza Hut delivery driver.
On Saturday, November 5, MCSO deputies responded to Lake Tropicana in Dunnellon, after a female Pizza Hut delivery driver was carjacked at gunpoint.
At that time, the suspect, later identified as Keefer Jordan Nicolo Shubert, got away with the woman's 2003 White Pontiac Vibe.
According to reports, on November 6, MCSO received an anonymous tip advising that the stolen car had been spotted at the Wal-Mart, located at 4980 East Silver Springs Boulevard.
Deputies quickly arrived on scene and waited for air support before engaging the suspect.
As additional patrol units arrived on the scene, the suspect fled, which started a high speed chase.
At times, the chase exceeded speeds of 100 mph.
During the chase, Deputy Jeremy Nix performed the PIT maneuver on the vehicle. Shubert then fled on foot and attempted to steal three other semi trucks.
When Shubert attempted to gain access to one of the vehicles, the victim quickly locked the doors.
Shubert then attempted to enter another semi by pulling a knife on the victim. As with the first victim, he was able to prevent Shubert from entering his semi.
Subsequently, Shubert was located and arrested in the parking lot of the Pilot, located at 4225 West Highway 326.
The stolen vehicle was occupied by a 17-year-old, a 14-year-old, and other adult passengers. Their names are not being released pending the outcome of an ongoing investigation into their backgrounds.
Shubert was charged with Child Neglect (x2), Driving while License REvoked, Fleeing and Eluding, Robbery-Armed Carjacking, and Burglary of an Occupied Vehicle.
His bond was set at $71,000.