MOTHER AND SON FOUND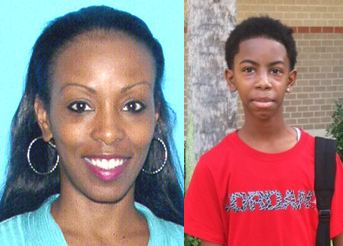 The alert for Howard Darden, 11, and Angela Darden the mother has been called off. Both were found safe in North Carolina, said Seminole County Sheriff's deputies.
Deputies say someone watching the news reported their location. Angela's yellow Volkswagen had been painted black.
Angela Darden had taken the boy from Piedmont Lakes Middle School at 9:45 a.m. on August 27, 2013, without the father's permission.
Angela Darden, 45, lost her custody battle after she failed to show up to the hearing.
She was being monitored by a GPS device after she was charged with aggravated stalking involving the father. Angela snatched the boy from school and cut off the GPS device. Deputies immediately notified the father following the removal of the GPS.
Deputies said Angela Darden had sent a disturbing text message to family members. Angela Darden has a history of mental instability which led deputies to believe Howard Darden was in danger.
Orange County released a statement Thursday:
"A middle school child was released to a parent who was under court orders to have no contact with her children. The parent presented the school employee with her ID and alleged to have court papers that provided her with authority. It appears this parent is in violation of the court order and is being sought by the authorities. OCPS has and will continue to cooperate with law enforcement."
The employee working the front desk at the time of the abduction has since been removed. An investigation by Orange County is being conducted.