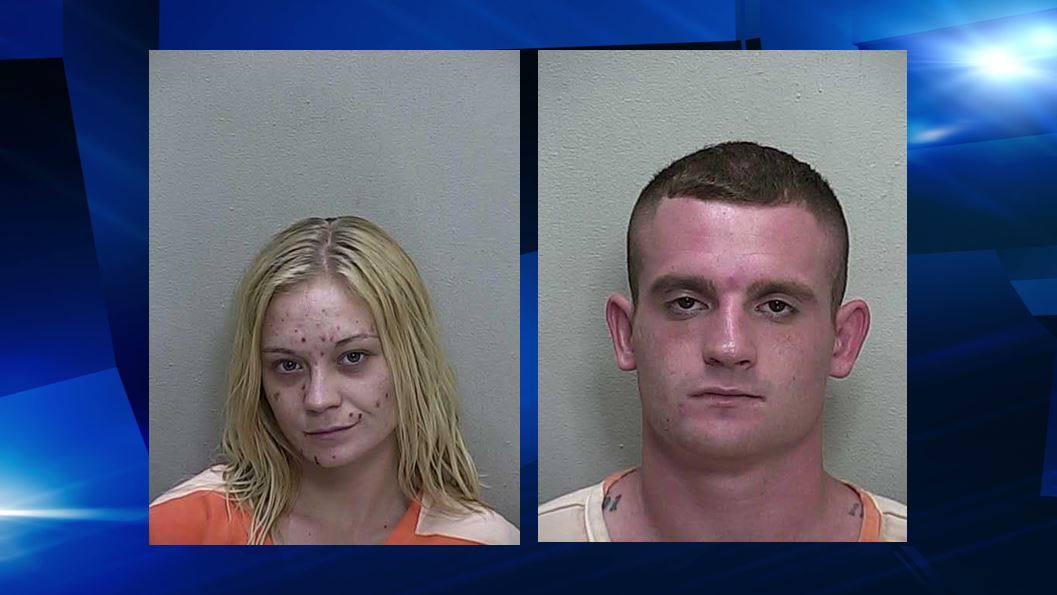 Ocala, Florida — A man and a women were arrested after switching seats during a traffic stop in the 1700 block of Southwest SR 200.
According to reports, Ocala police officer William Joedicke, saw a gold Chevy SUV traveling eastbound on SR 200 at approximately 3 a.m. without its headlights on.
The officer activated his lights and conducted a traffic stop on the vehicle, at which time it turned onto Southwest 20th Street and came to an abrupt stop.
Officer Joedicke reported that he saw the vehicle shaking and saw the driver, later identified as Chad Cowart, 23, switch seats with a rear passenger, identified as Allyson Rountree, 22.
The officer immediately asked Rountree to exit the vehicle and asked why she had switched seats. Rountree stated that she did it because Cowart did not have a valid driver's license.
According to reports, the officer then removed Cowart from the vehicle and placed him in handcuffs. While doing so, Officer Joedicke said he could smell freshly burnt marijuana in the SUV.
The front passenger, Calvin W. Turner, 25, told the officer that the three of them had just smoked some weed, but it was all gone.
When Cowart was questioned about the marijuana, he said he didn't know anything about it, but thought Turner was in possession of some. When asked why he switched seats, Cowart replied, "I switched seats because I didn't want to get in trouble for driving without a license."
When Rountree was questioned, she told the officer that Cowart had a sandwich bag with marijuana in it, but didn't know where it was.
According to reports, the officer saw Rountree's purse in the backseat and asked if he could search it, which Rountree agreed.
The officer found an eyeglass case with two syringes that contained a light brown liquid, two plastic baggies with white powder, a glass vial containing liquid, a spoon, and a piece of cotton.
Additionally, a baggie of marijuana was found in the gas tank compartment of the vehicle.
Rountree told the officer that she had taken the items from a friend's house because she didn't want to leave them behind for her friend.
Rountree was arrested and charged with Possession of Methamphetamine, Possession of Oxycodone without a Prescription, and Possession of Drug Paraphernalia (x3). She was released on $10,000 bond.
Turner was not arrested. However, he has an extensive criminal history and was just released from jail in December after serving a year sentence.
Cowart was arrested and charged with Driving with a Suspended License. He was released on $1,000 bond. He has previous arrests for Battery, Grand Theft, Fraud, Dealing in Stolen Property, Failure to Accept Citation for Violating Animal Conservation Laws (x2), Violation of Probation, Possession of Suboxone without a Prescription, Possession of Buprenorphine (A Semi-synthetic Opioid), and Possession of Drug Paraphernalia.
No one in the vehicle was charged with the marijuana.