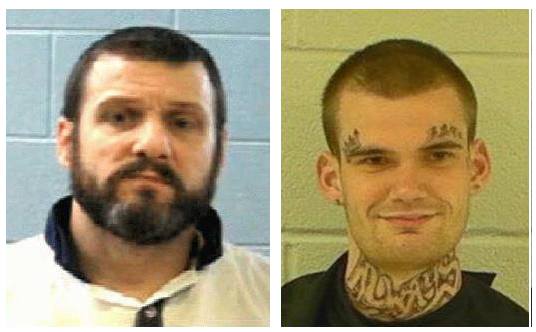 Georgia — The search is on for two Georgia Department of Correction convicts who killed two corrections officers and escaped custody.
According to a press release, Donnie Russell Rowe, and Ricky Dubose, who has elaborate tattoos on his face and neck, were last seen getting into a green four-door 2004 Honda Civic, which they stole from a passerby.
The Georgia license plate number is RBJ-6601.
Putnam County Georgia Sheriff Howard Sills said that the inmates might have "ditched" the car by now and obtained another means of transportation.
The inmates escaped during transport.
Sills said that the inmates overpowered the two armed corrections officers, removed their Glock 9 mm handguns from their holsters, and then shot them.
Sills said that there will be a thorough investigation as to how the inmates were able to unlock the cage on the bus and get to the guards.
The two guards were later identified as Christopher Monica and Curtis Billue.
According to Sills, Rowe was serving a life sentence and Dubose was serving a 20 year sentence which he had just started on 2015.
In an email, Sills said, "I am afraid they might kill someone else." He said the two inmates have zero respect for human life.
The inmates were last seem traveling west on state Highway 16 toward Eatonton. They are considered armed and dangerous. If you see them, call 911.
Sills said the two convicts have a head start and could be anywhere by now.
There is a $60,000 reward being offered for their capture.