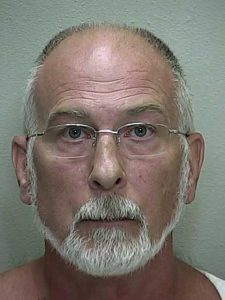 Summerfield, Florida — A Summerfield man molested a 5-year-old boy, but says it was the child's fault.
The Marion county Sheriff's Office received a report on September 27, 2013, stating that Timothy Robert Dacey, 68, had sexually molested a child at his home in Summerfield.
The boy had told someone that Dacey touched him with his "pee-pee" on the chest and face. That person then contacted authorities.
The child was taken to Kimberly's Center for Child Protection on October 1, 2013, to be interviewed.
During the interview the boy described occasions where Dacey would ask if they could rub their penises together. The juvenile also advised that Dacey would show him pornographic materials.
Authorities conducted an interview with Dacey at his residence on October 1, 2013, during which he denied all allegations and suggested that the accusation involving pornographic material may have stemmed from an incident where he was flipping through channels and a naked female was shown on HBO. He stated that he immediately changed the channel. He denied any other occasions wherein the boy would have been exposed to pornographic materials.
Dacey also denied ever touching the boy in a sexual manner and said that he had no idea where he would come up with these allegations.
According to reports, a search of Dacey's phone and computer rendered negative results for any searches or downloads from a pornographic site. He was offered a polygraph test which he agreed to and responded to the Marion County Sheriff's Office on October 7, 2013.
After being read his Miranda rights, in the pre-interview process the defendant advised Special Agent Jeremy Jordan that a few times while he and the boy were playing, the boy accidentally touched him on his penis and "it just went from there."
Dacey stated that it was mostly his fault; however it seemed to him that it was also the fault of the child.
He went on to explain that the boy had seen him naked before while he was changing clothes. He added that the boy just looked and left. Dacey said that the naked incident happened "before anything else."
He described an incident where he and the boy were playing and the boy was stuffing dog toys down his (Dacey) pants; at which time the boy "swatted" his penis and Dacey told him, "No, you shouldn't do that," adding that he then removed the dog toys from his pants and "put it up."
Dacey described a different day when they started playing and the boy asked to be tickled. Dacey told authorities that he tickled the boy and the child would get on the top of the couch and jump off onto him, "a few times while doing so he touched my privates", said Dacey.
"He kinda squeezed it," said Dacey. He said at that point he didn't know if he should say anything, so he did not and it "lead to other things."
SSA Jordan confronted Dacey and told him he felt there was more to the story, and after what appeared to be deep thought, Dacey admitted that he had not told the whole story, according to the Sheriff's Office.
He then continued to say, "I know it shouldn't have happened, but it did and it seemed like he knew more than he should have."
Dacey said he was at a point where he was more relaxed and if it was going to happen then he was willing to let it happen. He advised SSA Jordan that the boy reached inside his pants and grabbed his penis and that led to "touchy touchy" both ways.
He also stated that the two of them ended up with their pants down and admitted to touching the boy's penis and instructing him to touch his as well.
When asked about touching the child on the chest with his penis, he explained that the boy jumped forward and slid down him and that's how his penis touched the boy's stomach. He told authorities the encounter lasted about 10 to 15 minutes and then he "called it quits" because it started bothering him.
He confessed to having an erection during these actions and says he told the victim not to tell anyone because they would get into trouble.
Dacey denies being under the influence of any type of drug or alcohol during this incident.
It is still unknown at this time as to how Dacey knew his victim.
He was arrested and charged with Lewd and Lascivious Molestation and is currently in the Marion County Jail on a $15,000 bond.