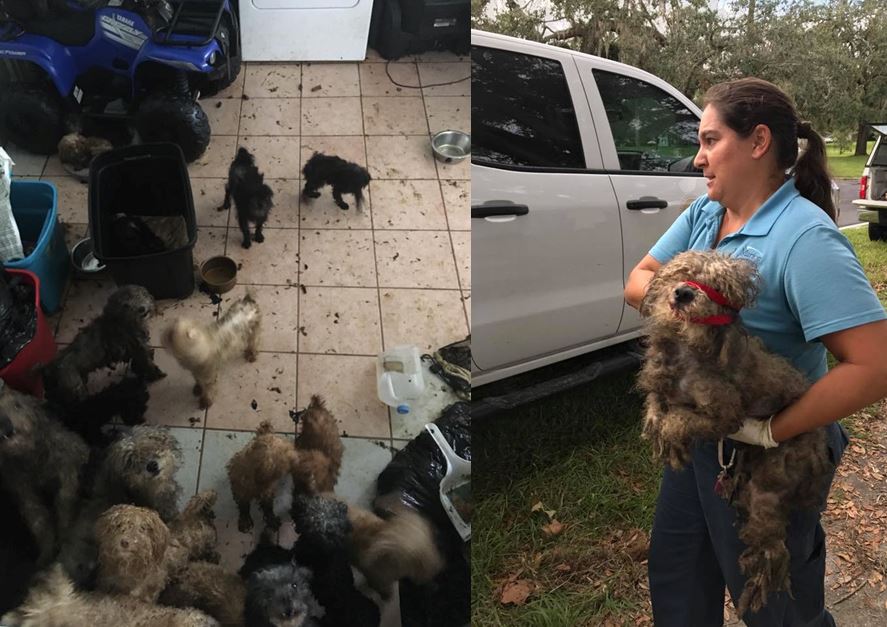 Marion County Officials said they removed 56 dogs from a home, located at 931 Northeast 12th Avenue.
Ocala Police said that a three-year-old child had been living in the urine and feces-filled residence.
On October 5, OPD received a call in which the caller reported that there was a foul smell coming from the residence.
Thinking it was a dead body, OPD officer responded to the residence.
When police arrived, a woman whose name has not been released, came to the door but refused to allow them to enter the residence.
Article continued below
The woman stated that she lived in the home with her father who has dementia. She told police that he was not in bad health.
Police then asked how many animals were in the home.  The woman stated that she had 15 dogs that were "going to be moved to a kennel."
The officers sensed that the woman was being deceptive and called Code Enforcement and Marion County Animal Services.
When  Code Enforcement arrived, they discovered urine oozing from under the front door.
According to officials, when police were finally able to enter the residence they could smell the strong odor of ammonia and found the three-year-old living in the filth. Police said there was trash, urine, and feces all throughout the house.
Police described the scene as sickening. They said the environment was "way too hazardous for a child."
Police allowed a family member to remove the boy from the home.
The woman's father who has dementia was medically cleared.
The Department of Children and Families was also notified.
According to Marion County Animal Services, the dogs will receive health assessments. The dogs will not be eligible for adoption until legal custody has been approved for animal services by the court.
The woman has not yet been charged with a crime.