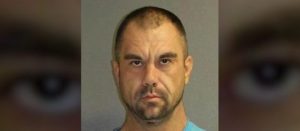 Daytona — A Texas fugitive wanted on murder and other charges in a deadly Thanksgiving Day home invasion in El Paso was located in Daytona Beach thanks to License Plate Reader technology that alerted law enforcement to his stolen vehicle.
Jason Gibson, 38, was arrested Tuesday afternoon shortly after he fled from a converging group of Daytona Beach and Holly Hill police officers, Volusia County sheriff's deputies, and members of a U.S. Marshals fugitive task force.
As he was surrounded, Gibson drove his car at a VCSO deputy and HHPD officer as he fled.
Gibson later bailed on foot and was taken into custody at a Daytona Beach office building.
In addition to his out-of-state charges of Homicide, Aggravated Assault, Kidnapping, Aggravated Burglary, Aggravated Battery with Great Bodily Harm and Larceny, Gibson was charged locally with two counts of Aggravated Assault for driving at the two law enforcement officers as he attempted to flee.
On Thanksgiving Day, Gibson forced entry to a home in El Paso, Texas and shot a father, 58-year-old Juan Salas in the head, a mother, 58-year-old Lorenza Salas, and son, 24-year-old Jonathan Salas.
Juan died at the scene.
Lorenza and Jonathan both remain in ICU.
Police said, "The mother was shot in the head and the son was shot in the face."
El Paso police said that the home invasion was random.
Those who know Gibson told police that he "is a very evil man and always has been."