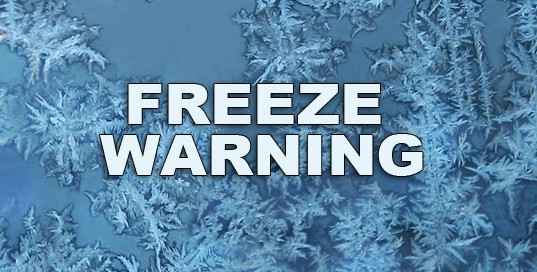 Meteorologists are calling it a "Polar Vortex." Most residents across the U.S. are just calling it "Way Too Cold."
The temperature predictions are startling: 25 below zero in Fargo, N.D., minus 31 in International Falls, Minn., and 15 below in Indianapolis and Chicago. At those temperatures, exposed skin can get frostbitten within minutes and hypothermia can quickly set in because wind chills could hit 50, 60 or even 70 below zero in some areas.
Several schools across the U.S. have suspended class, and not because of the snow. School officials are scared children that walk or ride their bikes to school will literally freeze to death or get frostbite before they make it to class. Temperatures are hitting record lows, and we want to be safe, said one school official.
While Florida certainly will not be 70 below zero, and classes will not be canceled,with the windchill it may feel like 13 degrees in some areas such as Tallahassee.
Marion county is under a hard freeze warning. With windchill, meteorologists say it may feel like 19 degrees.
If you have pets you will want to bring them in. If a resident is reported for leaving an animal in the freezing cold, that person could be charged with Animal Cruelty. Also, remember to cover plants, pipes, and wrap your well pump if you have one, and the best way to keep your water from freezing is to leave a faucet on drip or steady stream; this will keep the water flowing.
Antifreeze in your radiator is a must, expert mechanics say a radiator will crack if it freezes and is suddenly heated once a car is started.
The elderly are extremely susceptible to bitter cold, so be sure to bundle grandma and grandpa up with a warm blanket. If you know someone that unfortunately cannot afford heat, lend them a blanket as well; especially if they have children.
Be safe, stay warm, and use extreme caution if using a space heater.
Please follow and like us: