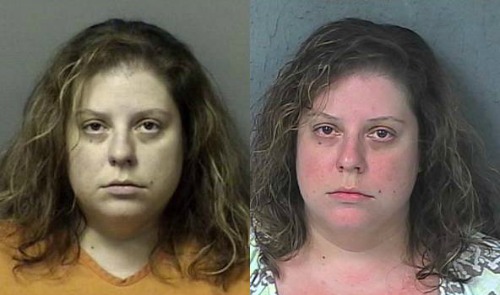 A teacher is accused of engaging in various explicit sexual acts with a 16-year-old boy.
The Citrus County Sheriff's Office has arrested Cynthia Herr, 35, after they received a tip on September 12, 2013, concerning inappropriate contact between Herr and and a young boy.
Herr is a teacher at John D. Floyd K-8 School of Environmental Science in Spring Hill.
Herr told a colleague that she was having sex with a minor. That colleague then informed school administrators, the sheriff's office said.
According to reports, Herr was contacting the boy via Facebook and text messages in which she expressed having romantic feelings for the 16-year-old.
When investigators questioned the boy about the relationship, he initially denied ever having any sexual contact with Herr, but after a detective was given permission to view the boy's cell phone, he observed several text messages that were very sexual in nature.
The boy then gave the detective permission to view his Facebook account in which authorities found sexual messages between the boy and Herr.
The boy then admitted to the detective that he did in fact engage in sexual activity with Herr, stating that it happened in Hernando County.
Upon investigators interviewing Herr, she admitted to having sex with the boy on more than one occasion including in her van in Pasco County, at a motel in Hernando County, in her van in Marion County, and several times in her van in Citrus County.
According to reports, Herr told police that she knew what she did was wrong, and she would probably be losing her family, job, and going to jail. She also said that she would be in trouble if authorities were to access her phone and Facebook.
A second interview was conducted with the boy, at which time he told detectives that held back information before in an attempt to protect Herr because he didn't want to get her or himself in trouble. He then confirmed that he and the woman had engaged in sex on various occasions in all four counties.
She was arrested in Hernando County on September 23, 2013, on four counts of Sexual Assault by an Adult 24 years-of-age or older.
She was released from the Hernando County Jail on September 24, 2013, at approximately 12:30 a.m. on a $20,000 bond.
At around 1:04 p.m. on September 24, 2013, the Citrus County Sheriff's Office arrested Herr on three counts of Unlawful Sexual Activity with Certain Minors.
She was then booked into the Citrus County Jail on a $30,000 bond.