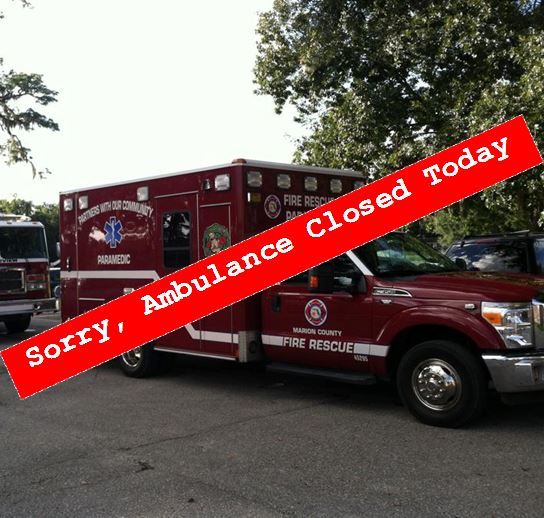 Marion County — Persistent staffing shortages have been the cause for Marion County Fire Rescue to shut down ambulances over the last few months. This event, called a "brown out," has been putting a strain on the ambulance system. The "brown out" has forced MCFR to empty out response zones that are both paid for and expected by county residents from On Top of the World, Belleview, and Ft. McCoy. However, these firefighter-staffed ambulances are parked on street corners in the city of Ocala waiting for medical emergencies for city residents.
This past Saturday was particularly stressful for Marion County due to three ambulances being shut down.
On any given day, approximately 150 firefighters, paramedics, and EMTs are scheduled to be on duty to help citizens with any emergency.
And, in spite of 28 employees on overtime on that day, there still was not enough staff to cover the three ambulances that were browned out, which cover the city of Ocala.
With these 28 employees, nearly 20 percent of the staff of firefighters and EMS workers was on overtime that day
Even more problematic is that three of those individuals were on mandatory overtime, the practice of forcing employees to continue working through another 24-hour shift. This occurs nearly every day.
Sadly, it has come to this. Firefighters are forced to stay on duty to protect Marion County. Even more remarkable throughout the ongoing pay dispute is that Marion County Commissioners use the pay from both the voluntary additional shifts and this forced overtime as proof that these rescue workers do not suffer from low pay.
This practice is yet another reason that firefighter paramedics continue to flee this county for other areas that offer higher pay, less hours, and better benefits.
As of now, there appears to be no end in sight as the County Commissioners have refused to talk about these issues other than to deny that problems exist.