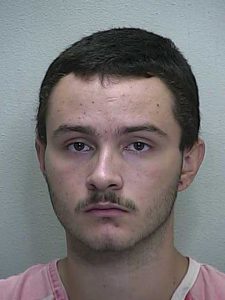 Summerfield, Florida — On November 4, 2013, a woman called the Marion County Sheriff's to report that the 19-year-old boy identified as Robert Lee Buchanan, had sexually molested her daughter.
According to reports, the victim's mother advised deputies that Buchanan is a family friend who had been living with them for several months.
The mother told authorities that on November 4, she walked from her bedroom into the living room and observed Buchanan and her 6-year-old daughter sitting on the couch with a blanket over them. The mother stated that when Buchanan realized she had entered the living room he quickly moved his hand in a "jerking motion". She told deputies that she then heard her daughter ask Buchanan, "Why did you stop?"
The mother then took her daughter outside to ask her what happened. According to reports, the victim told her mother that Buchanan had digitally penetrated her.
The victim was transported to Kimberly's Center for Child Protection to be interviewed by Case Coordinator Jeanette Knonsary. Authorities say that the victim disclosed to Mrs. Knonsary that Buchanan had put his finger inside her "Coo-Coo" (pointing to the vaginal area on a drawing) and touched her "booty" with his hand. The victim disclosed that on another occasion Buchanan had touched her "coo-coo" with his mouth, according to reports.
Buchanan was taken to the Marion County Sheriff's Office where he was interviewed by Deputy F. Scala. Buchanan admitted to putting the tip of his finger inside the victim's vagina and also licking the victim's vagina as well. According to reports, Buchanan claimed that the 6-year-old girl took his hand and made him touch her vagina. He stated that the victim also tried to get him to touch her on November 3, 2013, but he did not do it.
Buchanan was arrested and charged with two counts of Sexual Battery on a Child under 10-years-old.
He is being held in the Marion County Jail on a $50,250 bond.