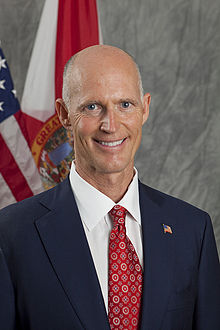 Tallahassee, Florida — Florida residents are outraged following the secret signing of House Bill 851.
Governor Rick Scott quietly signed legislation over the weekend that allows students who are illegal immigrants to qualify for in-state tuition at Florida colleges and universities. And it is at the expense of Florida families that are in the U.S. legally.
House Bill 851 was a priority of House Speaker Will Weatherford, who overcame opposition from Senate conservatives to achieve passage in the final days of the 2014 session. Yet Scott didn't provide an opportunity for them to take a victory lap, since he chose not to hold a formal bill signing, as he has for other priorities.
While many legal students have been turned down after applying for financial aid due to their hardworking parents making "too much money," illegal immigrants will now be allowed to qualify for in-state tuition.
Thousands of Florida residents and students alike have turned to social media to express their disapproval and disgust. Many calling Scott a political terrorist.
One person wrote on Facebook that this is clearly a political based move in an attempt for Scott to win the election over Charlie Crist.
When Rick Scott made his maverick push for Florida governor four years ago, the Republican took a hard line against illegal immigration that he used to assail his main GOP rival for the job. But with a likely tight re-election campaign looming, the incumbent is making a concentrated push to win over Hispanic voters. Allowing in-state tuition for illegal immigrants is part of that push.
Republican administrators criticized Scott's decision, calling it a "deathbed conversion."
Four years ago when Scott was elected, he had full support of conservatives because of his strong stance on keeping illegal immigrants from crossing the borders.
Conservatives are now turning their backs on Scott.
In April of 2014, a statewide poll was conducted that found more than 75 percent of those that actually support the bill were Cuban, Mexican and Puerto Rican. Republican administrators say this is clear evidence that Scott's sole purpose of passing the in-state tuition bill was to gain the trust of the Hispanic community.
House Speaker Will Weatherford, contends the push in the Legislature was not about a political goal of helping Governor Scott but about policy.
Floridians, however, say they are not "buying" into Scott's lies.
Student John Forsyth wrote on Facebook, "Why should anyone believe Rick Scott? He clearly lied about keeping illegal's from crossing the border just to gain the vote of conservatives. And now that Charlie Crist is running democrat Scott wants to get the Hispanic vote. It is clearly political. Illegal's are just that, illegal. I am tired of them getting favored over Americans that work hard to get into school."
The group Floridians for Immigration Enforcement had urged Scott to veto the measure by reminding him of his own statements on immigration. Legislative director Jack Oliver said he believes Scott purposely misled voters in 2010 when he indicated support for Arizona-style reforms that never came to fruition.
"Inevitably, when colleges and universities incur an expense by discounting tuition for some, the cost is shifted to others – including Florida families with children in college and Florida taxpayers who are asked each year to send more public funds to higher education," said Senator Don Gaetz. "Our federal immigration laws are a mess. Democrats and Republicans alike have failed to face the issue honestly and effectively. And, real solutions are unlikely to be popular. However popular this bill may be with some – is not a solution and I cannot support it."
Are you a student? We want to hear from you. What do you think about the bill?