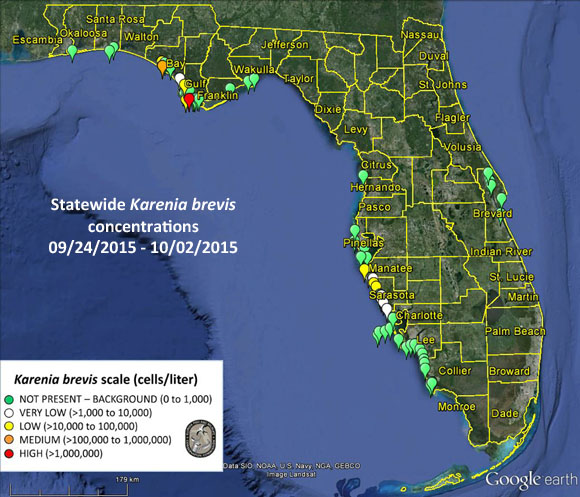 Blooms of the Florida red tide organism, Karenia brevis, are present along and offshore of Bay and Gulf counties and adjacent to Franklin County in northwest Florida, and along and offshore of Manatee, Sarasota, and Charlotte counties in Southwest Florida.
In the past week, K. brevis was detected in background to high concentrations in 11 samples collected in, and alongshore of, Bay and Gulf counties, and in background to low concentrations in 32 samples collected in and alongshore of Manatee County south to northern Charlotte County. One sample collected offshore of northern Lee County contained background concentrations of K. brevis.
Within the Gulf of Mexico, Karenia brevis was not detected in, or alongshore of, Escambia, Okaloosa, Franklin, Hernando, Pinellas, or Collier counties. No samples were analyzed this week from Santa Rosa, Walton, Wakulla, Jefferson, Taylor, Dixie, Levy, Citrus, Pasco, or Monroe counties.
Forecasts by the USF-FWC Collaboration for Prediction of Red Tides show slight southeast movement of surface bloom patches over the next three days in Northwest and Southwest Florida.