[Warning: Video contains mild language, viewer discretion is advised.]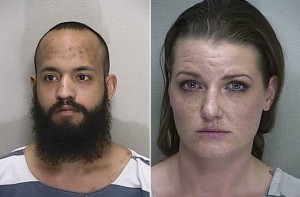 Ocala, Florida — On April 5, 2014, Deputy Lisa Azure and Deputy Newbanks responded to the 15600 block of SW 16th Avenue, in reference to a complaint about a large party.
According to the sheriff's office, there were between 100-125 people at the party and a large bonfire was blazing in the back of the house near a structure. The fire department was also dispatched to the area, according to Captain Pistarelli of the Marion County Sheriff's Office.
According to deputies, when they first arrived on scene they observed three people sitting in a car, all of whom were juveniles. All three juveniles were sitting in the vehicle rolling a "joint" and had cups that contained alcohol residue in their possession.
When asked where they got the alcohol, the juveniles replied, "You can pay $2.00 and get it from the house party," according to deputies. All three juveniles were arrested and later released into the custody of their parents.
Captain Pistarelli said the road was very poorly lit and there were vehicles in the roadway that most certainly were a safety hazard to thru traffic.
According to Captain Pistarelli, Deputy Azure got on her PA system and announced that people at the party needed to move their vehicles that were obstructing traffic in the roadway, at which time Jason Pomales, 28, emerged from the crowed and began shouting, "you don't have to do what they say, you don't have to move your cars."
Deputies stated that Pomales was getting the crowd "revved" up.
Deputies indicated that Pomales also told them (the deputies) to get off of the property because it is private property and they didn't have a lawful right to be there.
The deputies explained to Pomales that they were investigating a complaint of an open house party in which a cover charge was being collected, but Pomales insisted on arguing with deputies, according to reports.
Deputy Azure stated that she told Pomales several times to back away from deputies or he would be arrested, however Pomales would not listen.
Deputies said a large crowd began to form around the deputies. Deputies also indicated that several individuals in the crowd were screaming at the deputies. The crowd remained, despite deputies giving verbal commands for them to disburse.
According to Captain Pogue with the Marion County Sheriff's Office, Pomales, prior to being approached and arrested, emptied his pockets then turned to his wife, Stacey Pomales, 26, handed her his wallet and phone and said, "record this." Captain Pogue said it was as if he was planning on being arrested with the intention of having his wife record it.
At the time Pomales was being placed in handcuffs is when the video starts, therefore everything that happened prior to the recording cannot be seen.
Stacey continued to record as she yelled at Deputy Azure, demanding her badge number even though Stacey was not the person being arrested at that time.
Law Enforcement officials are not required to stop during an arrest or investigation to answer questions of bystanders or family members, especially if there is a potential threat of violence to law enforcement.
According to the Criminal Justice Standards & Training Commission, 21′-25′ is the minimum safe distance a law enforcement officer should, at all times, maintain between a suspect and themselves in order to effectively and safely be able to respond to a threat. This minimum distance is referred to as the Reactionary Gap.
During the investigation deputies gave verbal commands to Stacey several times both on and off video, telling her to stand back, according to reports.
Captain Pistarelli said that Stacey kept leaning up against one of the deputies patrol cars even after being asked to stand back.
As Stacey was being arrested, in the video it seems as though she was just standing there, however, Captain Pistarelli said that was not the case.
"At the moment that Stacey was arrested in the video, she was actually leaning up against one of the patrol cars, even after being asked to disburse," said Captain Pistarelli. "She was leaning on the patrol car and recording– completely ignoring the deputy's directions."
Stacey also jerked her arm away from Deputy Azure as she was being handcuffed, according to reports.
Gregg Jerald, general counsel for the Marion County Sheriff's Office said, "Neither of the defendants were arrested for video recording as they claim." Adding, "Both defendants were impeding on an investigation and that's the bottom line."
Ocala Post asked the Marion County Sheriff's Office if the deputies prevented anyone from leaving the party; to which Captain Pistarelli replied, "Pomales indicated that deputies had stopped people from leaving the party but that is also a fabrication of the truth."
"Deputies did not conduct any traffic stops while at the scene of the party nor did they prevent motorist from leaving. The only motorist that was spoken to, was simply asked to buckle up and then sent on their way," said Captain Pistarelli. "At no time did deputies question any passerby's about the house party or their involvement."
During a recorded interview with Pomales, he indicated that he was left in the back of a patrol car with the windows up and the air-conditioning off. Pomales said he was sweating profusely. Gregg Jerald said the accusations are completely false.
Captain Pistarelli said, "The patrol vehicles emergency lights were activated, therefore the car would have been running and the A/C was on. If the car was not running and all lights were activated, the battery would have run dead very quickly, therefore deputies leave the cars running while emergency lights are activated."
Ocala Post also asked the Marion County Sheriff's Office if they felt that Pomales' actions were financially motivated or if they feel [he] intentionally antagonized deputies.
Caption Pogue said, "It does appear that Pomales is a member of a group whose sole purpose is to antagonize and record law enforcement officials."
Gregg Jerald said that during a recorded jail house phone conversation between Pomales and his friend, that money was mentioned.
[Jail Conversation]
When asked how the Marion County Sheriff's Office responded to deputies in regards to the video; Chief Fred LaTorre with the Marion County Sheriff's Office said, " There are some things that Deputy Azure as well as other deputies said in the video that were not appropriate and those issues are being addressed. If one of our deputies does something wrong we will correct it."
Captain Pistarelli said, "We are taking this video, addressing the issues and making sure it is used as a training video." Adding, "If you watch the video you will see that at no time did any of the deputies curse, or become verbally or physically abusive to anyone at the party."
Gregg Jerald said, "The Marion County Sheriff's Office has absolutely no qualms with any citizen recording one of our deputies so as long as it is done from a safe distance, does not interfere with a deputies ability to perform his or her duties to the best of their ability and does not interfere with an investigation."
Captain Pistarelli said his best advice to the citizens of Marion County is that when a deputy is conducting an investigation, do not let someone in the crowd provoke the situation or influence your decision making. Interfering with an investigation is a quick way to get a charge for obstruction as well as it posing a safety concern for all parties involved, he said
Stacey Pomales was arrested and charged with Resisting an Officer/Obstruction Without Violence, she was released on $1,000 bond.
Jason Pomales was charged with Resisting Arrest, he was released on $500.00 bond.
The investigation in regards to the open house party in relation to alcohol being served to minors is ongoing. It is unclear at this time how the minors came to be in possession of the marijuana.