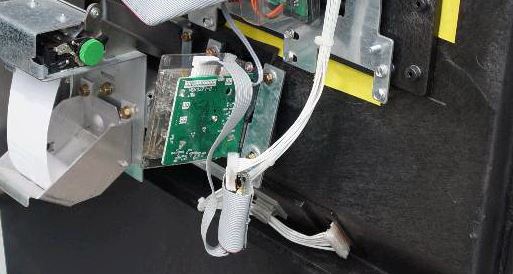 Ocala, Florida — On Friday, May 8, 2015, between the hours of 1:00 p.m. and 5:00 p.m., detectives from the Ocala Police Department participated in an operation to inspect local fuel station pumps for skimmer devices.
This operation was initiated due to recent cases of skimming devices being located inside of the pumps and the credit/debit card information of consumers being stolen.
A total of (13) fuel stations were inspected on May 8, as a part of this operation.
No skimmer devices were located, and all stations cooperated with the inspections. Approximately (134) actual pumps were inspected/evaluated.
Specific stations visited include:
Marathon 3760 NW Blitchton Rd – 12 pumps
Shell 3801 NW Blitchton Rd. – 12 pumps
Bp Station 3820 NW Blitchton Rd. – 8 pumps
Mobile 3420 WSR 40 – 12 pumps
Valero 33 Ave / WSR 40 – 4 pumps
Shell 3928 W SR 40 – 12 pumps
Marathon SW 38 CT/SR 200 – 10 pumps
BP 3710 SW College RD – 8 pumps
Texaco 3401 SW College RD – 8 pumps
Kangaroo/Valero 38 CT/SR 200 – 8 pumps
Racetrac – 4000 blk of SR 200 – 24 pumps
BP SW 20 ST / SW 27 AVE – 4 pumps
Kangaroo SW 20 ST / 27 Ave. – 12 pumps
In addition to the inspections, detectives handed out informational bulletins to employees at the businesses in an effort to educate and inform them of the potential presence of skimmer devices. The information included tips for securing their pumps and photos of what various devices look like.
TIPS
Pay cash inside the store to ensure the credit card information stays safe.
Check to make sure the gas pump dispenser cabinet is closed and has not been tampered with. Many stations are now putting a piece of security tape over the cabinet to ensure it has not been opened by unauthorized individuals.
Use a gas pump closer to the front of the store. Thieves often place skimmers at the gas pumps farther away from the store so they are not noticed as quickly.
Use a credit card instead of a debit card. Credit cards have better fraud protection, and the money is not deducted immediately from a bank account.
If using a debit card at the pump, choose to run it as a credit card instead of a debit card. That way, the PIN number is safe. (If permitted by your financial institution)
Monitor bank accounts regularly.
Consumers who suspect their credit card number has been compromised should report it immediately to authorities and their credit card company.
According to OPD, there will be future operations of this type.
The inspections will be conducted at various times on non-specific dates,  and at random locations within the city limits.
Please follow and like us: