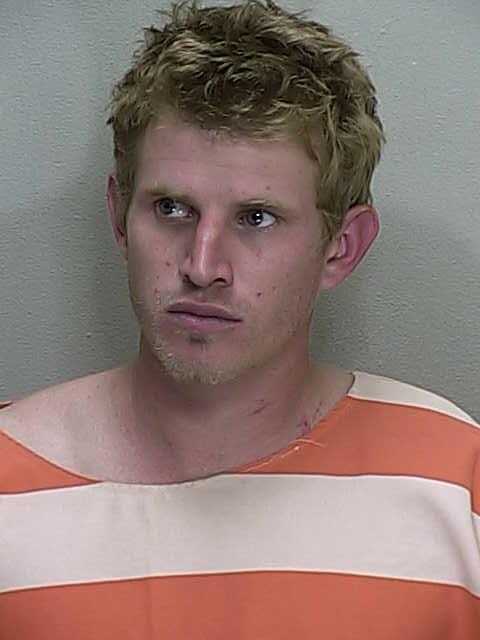 Ocala, Florida — On January 21, 2015, at approximately 7:04 p.m., Ocala police responded to the 4400 block of Northeast 11th Street in reference to a crash.
Upon arrival, Officer Jared Forsyth saw a broken chain link fence on Northeast 44th Avenue, where it dead ends at Northeast 10th Place.
According to reports, the officer observed tire tracks leading through the back yard of the home. The officer reported that there was debris scattered throughout the yard, and a shed in the yard had serious damage.
Officer Forsyth stated that when he was investigating the area he could also smell the odor of natural gas.
As the officer got closer to the crash site, he could hear a male saying, "Don't get up! Just stay on the ground."
The officer then saw Phillip Wagoner, 26, laying prone on the ground and the resident of the damaged home, Travis Bland, standing over him.
During the investigation, officers determined that Wagoner had been driving a 2004 Toyota hatchback when he reached the dead end street and crashed through the chain link fence.
The vehicle hit the first shed on the property and continued northbound until it struck the house. It then spun around and "took out" a second shed. When the vehicle hit the second shed, it extinguished the pilot light on the hot water heater, causing the area to become filled with natural gas.
Ocala Fire Rescue was dispatched so they could secure the broken gas line.
Article continued below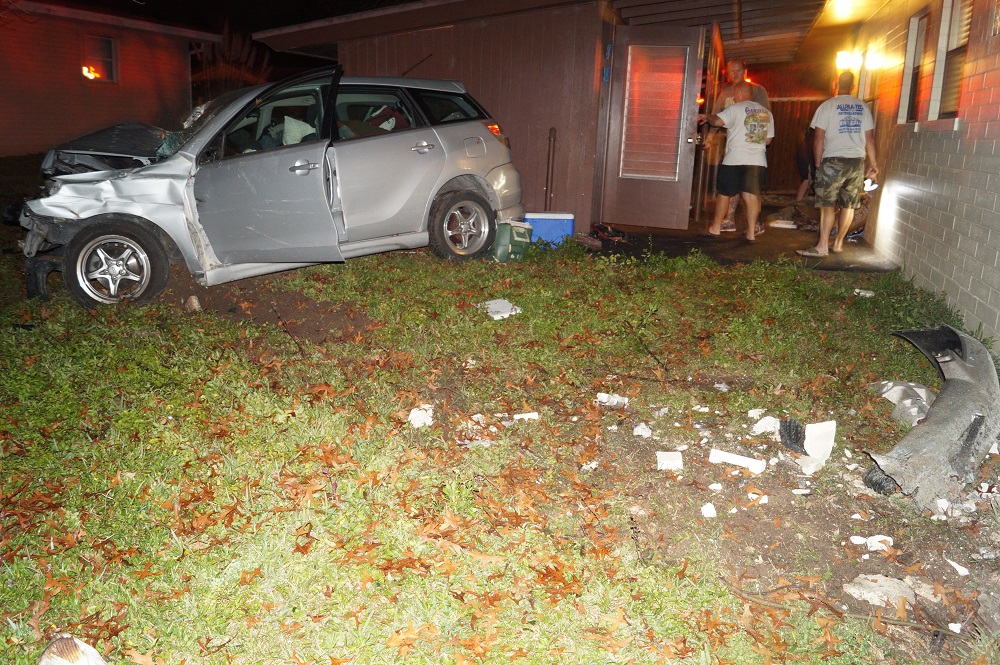 According to reports, Bland told Officer Forsyth that Wagoner stated he had been doing drugs and drinking.
As Officer Forsyth attempted to explain Wagoner his rights, [he] interrupted and asked; "How long will I be in jail?" He then asked; "Can we just go?" Immediately followed by, "The rights are bulls**t!"
Officer Forsyth then finished explaining Wagoner his rights.
Officer Forsyth reported that Wagoner admitted to drinking. Wagoner stated he consumed, "A fu**ing s**t ton of beer in his car" before he crashed.
Wagoner refused a breath test.
While Officer Forsyth attempted to advise Wagoner of implied consent, he constantly interrupted the officer. Officer Forsyth said that Wagoner kept saying, "Just put the cuffs on me and go to jail." Wagoner then began crying and mumbled, "Why does it have to be all dramatic? I don't know what you're talking about! La La La La La La! I speak Espanol! Really! What the f**k? Misdemeanor misdemeanor!
Wagoner went on to say, "I shouldn't have peed! If I didn't pee would it just be a crash? I'm an a**hole, I f**ked up, I'm guilty."
After Wagoner was medically cleared, he was transported to the Marion County Jail. He was charged with DUI with Property Damage.
The City of Ocala building inspector deemed the house unlivable. Now Bland and his three children have been displaced.