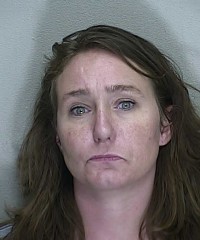 Ocala, Florida — On Wednesday, the Unified Drug Enforcement Strike Team (UDEST) was conducting an undercover operation on Pine Street in Ocala. The undercover operation was for the sole purpose of catching street walkers (hookers) in the act of soliciting sex in exchange for money.
It didn't take long! Almost immediately, two undercover officers operating an unmarked vehicle were approached by a woman, later identified as Melinda Johnson, 34, in front of the Star Motel, an establishment well known for drugs and prostitutes.
Johnson engaged in conversation with both of the undercover officers and told them she would "Blow them both" (oral sex) for $20.00 each.
Johnson was then placed under arrest.
She denied offering to exchange sexual favors for money, however, the operation was recorded and monitored as it occurred.
According to reports, Johnson was very uncooperative during her arrest, and she claimed she was only making casual small talk about sex.
Records indicated that Johnson is registered as a resident at the Star Motel.
A search of her person turned up a crack pipe tucked away under her left breast.
Johnson was transported to the Marion County Jail and charged with Prostitution and Possession of Drug Paraphernalia.