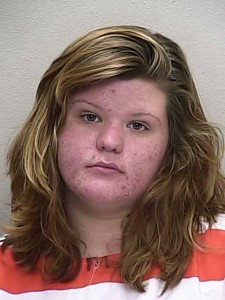 Ocala, Florida — On January 6, 2014, deputies were dispatched to the 10800 block of Southeast 45th Avenue in Belleview at 6:35 a.m.
Upon arrival, Deputy Jeremiah Jones spoke with a man who claimed that his daughter had fallen asleep an rolled over on his girlfriends 5-week-old baby, Keegan Alexander Ericson.
Ericson told investigators that she found Keegan under the girl and that Keegan had been smashed in between the couch cushions.
Paramedics arrived on the scene and pronounced Keegan dead at approximately 6:46 a.m.
Jaclyn Corin Ericson, 20, was arrested January 8, 2014, but not for the baby's death.
According to reports, Ericson was on felony probation for armed robbery that she committed in January of 2012. Then in December of 2012 Ericson violated her felony probation and was arrested and charged with another robbery as well as battery. Her felony probation was not set to terminate until March of 2015.
During the visit to her home on January 6, 2014, alcohol was seen in her residence. In accordance with her probation, Ericson is not allowed to be in possession of weapons, ammunition, drugs or alcohol.
Ericson's probation officer arrested her not just for the alcohol that was found out in the open at her residence, but also because she tested positive for cocaine at the time of 5-week-old Keegan's death. Authorities said the cocaine was in her blood stream while she was caring for her child.
Joann Ericson, Jaclyn Ericson's mom, is placing blame on the probation system and wants the probation system to be held accountable. Joann says if the probation officer had arrested her daughter the first three times she failed a drug test, the baby would still be alive.
Ocala Post spoke with Department of Corrections Deputy Communications Director Misty Cash, and she said, "The offender was not a drug offender and was given random drug tests which complied with her supervision. Those tests, each time they were given, were negative. Those tests were given three times." Cash went on to say,"Our officers ensure the offender abides by the stipulations of the Court and of course require offenders to abide by Florida law. We have to be sure that any violation is willful and substantial, and would be something that the officer could have held up in court."
Captain James Pogue, with the Marion County Sheriff's Office told Ocala Post that 5-week-old Keegan's death is still under investigation and investigators are looking into criminal charges against Ericson.
Ericson admitted drinking Jägermeister and Corona beer.
Ericson is being held at the Marion County Jail; bail has not been set.
[Updated January 11, 2014 at 5:06 a.m.]