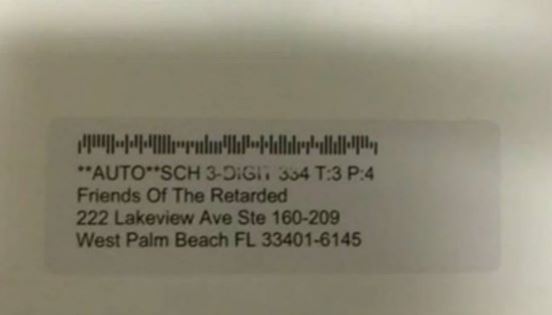 West Palm Beach, Florida — A West Palm Beach mother of a child with Down Syndrome said her friend received an invitation in the mail to a nonprofit event for handicap children, but was upset at the way the address label appeared.
The envelope was addressed to "Friends of the Retarded."
The invitation actually came from Seagull Industries, of West Palm Beach, a company that has been helping children with disabilities for 35 years.
Seagull Industries' Chief Executive Officer, Barbara Nurenberg, said the envelope was addressed to a company that actually used to exist. According to Nurenberg, "Friends of the Retarded" was in business from 1976 to 2006, and was also in the business of helping disabled children.
Nurenberg said Seagull Industries used to do business with them and somehow their address was still on Seagulls' mailing list.
Seagull Industries said it was a honest mistake and issued their sincerest apologies to the mother.
Nurenberg said the organization is updating their mailing software and the address will be removed from their database.