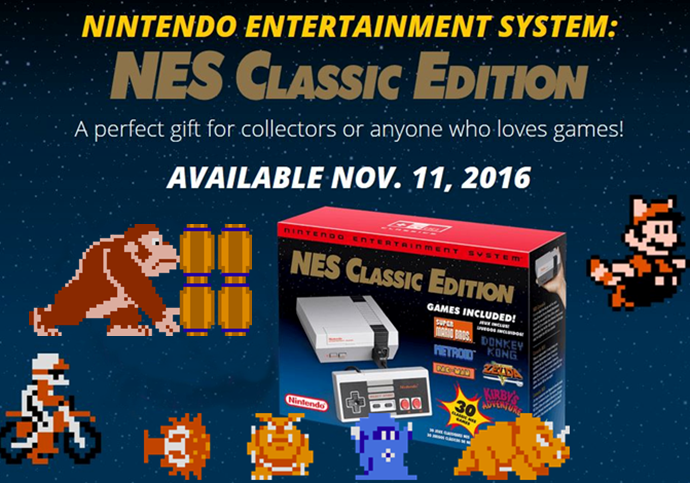 Play the system that started it all, remember your first Goomba stomp?
The NES Classic Edition system is a miniaturized version of the groundbreaking NES, originally released in 1985.
Just plug the NES Classic Edition into your TV, pick up that gray controller, and rediscover the joy of NES games.
Play NES games the way they're meant to be played—with a full-size "original" controller.
The included NES Classic Controller can also be used with NES Virtual Console games on your Wii™ or Wii U™ console by connecting it to a Wii Remote™ controller.
With 2P, press START, gamers can share the fun with a friend.
Games like Pac-Man™, TECMO BOWL, and Dr. Mario™ are even better with a buddy. And you won't have to fight over a controller.
Use your Classic Controller™ or Classic Controller Pro™ (sold separately), or buy a second NES Classic Controller.
The console is plug-and-play technology and features 30 of the best 8-bit retro games ever made.
Games:
Balloon Fight™
BUBBLE BOBBLE
Castlevania™
Castlevania II: Simon's Quest™
Donkey Kong™
Donkey Kong Jr. ™
DOUBLE DRAGON II: THE REVENGE
Dr. Mario™
Excitebike™
FINAL FANTASY®
Galaga™
GHOSTS'N GOBLINS®
GRADIUS™
Ice Climber™
Kid Icarus™
Kirby's Adventure™
Mario Bros. ™
MEGA MAN® 2
Metroid™
NINJA GAIDEN
PAC-MAN™
Punch-Out!! ™ Featuring Mr. Dream
StarTropics™
SUPER C™
Super Mario Bros.™
Super Mario Bros. ™ 2
Super Mario Bros. ™ 3
TECMO BOWL
The Legend of Zelda™
Zelda II: The Adventure of Link™
The console it slated for release on November 11, 2016, and will cost approximately $60.00.
Amazon is now taking pre-orders for gamers who cannot wait. Click the link below, or visit the Amazon store here.