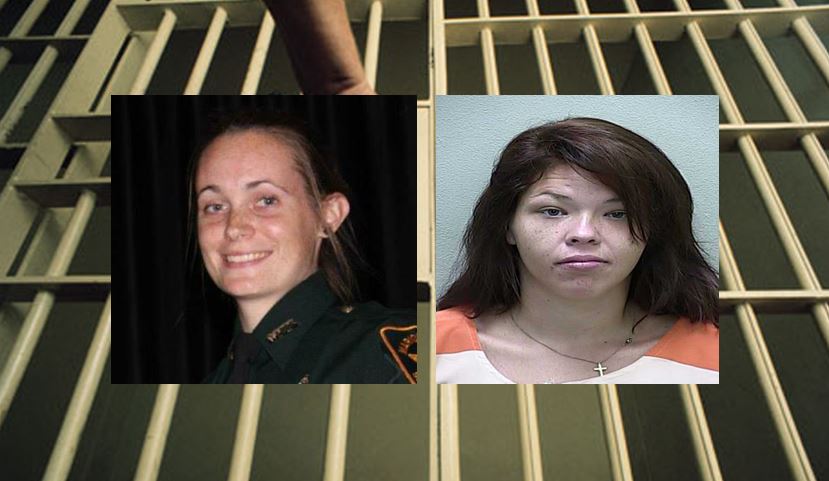 [Last updated on October 26, 2015 at 1:33 p.m. A previous version of this article stated that CO Foiles witnessed Remmele give Gray money for drugs. However, it was actually another former inmate who stated [that] to CO Foiles. Foiles then relayed that information to investigators.]
Ocala, Florida—A Marion County Sheriff's Office corrections officer, who resigned on September 22 amid an internal affairs investigation, was arrested after she turned herself in on Tuesday.
Ocala Post was made aware of the arrest by an unnamed corrections officer who was upset that the arrestee's information was intentionally kept out of the jail's booking database. In the past, officers have been able to hide their face from booking photos by utilizing Florida Statute 119, but in this case, the entire record was not present.
Kailee Remmele, 20, was arrested for a vehicle burglary, which took place on September 28. The burglary occurred at 7 Teak Place, Ocala.
According to reports, Remmele, along with her accomplice, convicted felon Cynthia Ann Gray, 25, stole a purse from a vehicle then used the victim's credit card to purchase cigarettes, gas, cell phone, and cell phone screen protector. The purchases totaled $305.57.
The two were identified through surveillance photos posted on social media.
Article continued below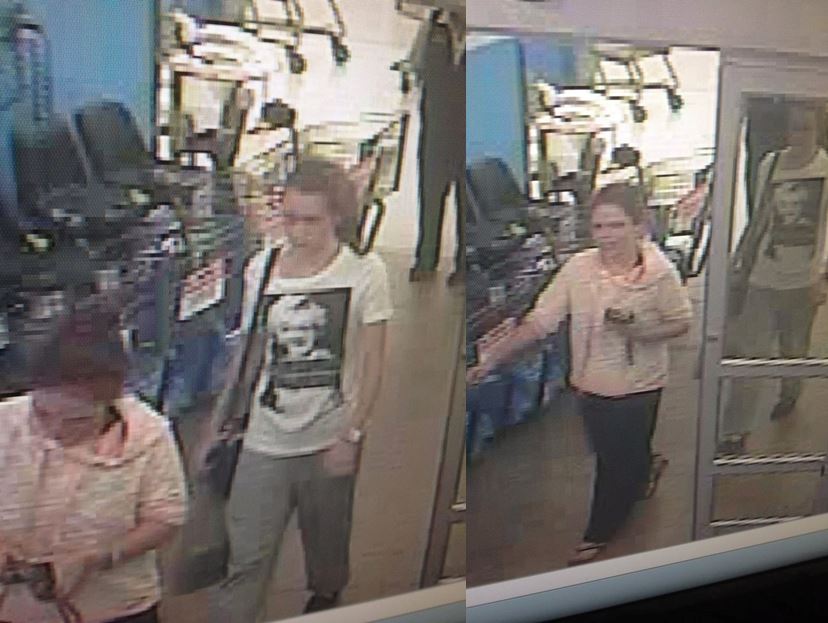 On October 4, Detective Dave Rasnick made contact with Remmele via telephone and asked her to come to his office for an interview. Remmele stated that she knew she made a mistake and asked if she would lose her corrections officer certificate. Detective Rasnick told Remmele that she should come in so they could talk, but she refused to cooperate.
A warrant was then issued for Remmele and Gray. According to records, Gray is still on the run.
The internal affairs investigation of Remmele was due to several policy violations.
Policy violations include fraternizing and showing favoritism toward certain inmates, including Gray while she was serving time for a previous arrest, taking out a loan so she could give $1,000 to Gray's father to post her bail, calling in sick then going to the beach, and associating with wanted felons outside of work.
The internal affairs report stated, "Employees should not knowingly associate with felons when that association might compromise the Agency."
Investigators became aware of Remmele's beach trip to St. Augustine with Gray after another corrections officer saw the photos on Facebook and reported her. One of the pictures posted on September 1, showed Remmele and Gray hugging. They even bragged about having a good time at the beach while Remmele was supposed to be home sick.
One conversation that took place between the two after Remmele bonded Gray out of jail reads as follows—note that KP Remmy is Remmele.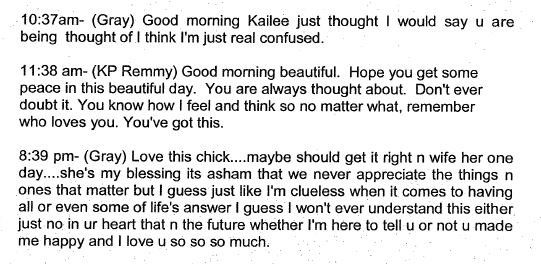 The photos and messages have since been deleted.
During the investigation, it was determined that Remmele and Gray were dating.
While at a truck stop, Remmele was recognized by Corrections Officer Laura Foiles, who was there with her husband. Foiles also recognized Gray as a former inmate. During a conversation, in her own words, Remmele told CO Foiles that she and Gray "were together." Foiles then asked, "What are you doing?" Remnele replied, "[Gray and I] hang out at night at the truck stop."
Foiles also stated that another former inmate, Kayla Salter, told her that Remmele was giving money to Gray for purchasing drugs from others who were at the truck stop.
Remmele was suspended from her job with pay, but later resigned.
The following was the conclusion of the internal affairs investigation: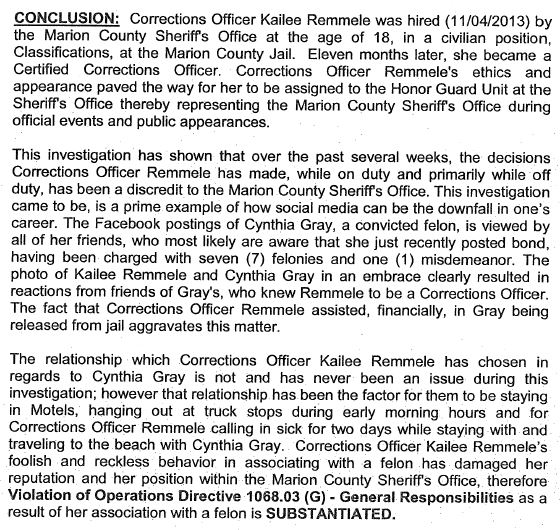 In regards to her arrest, she was charged with Burglary of a Conveyance, Fraudulent Use of a Credit Card, and Petit Theft.
According to the arrest affidavit, Remmele was being held on a $10,500 bond. It is not clear if she has bonded out of jail.
As of October 22, Remmele's corrections certificate was still active.