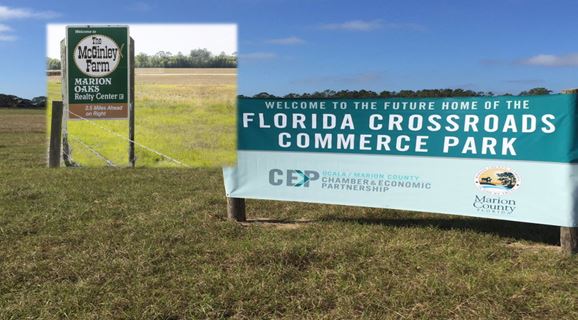 Marion Oaks residents have expressed great concern over the nearly 200 acre Dollar Tree distribution center, which would be built up against Marion Oaks on County Road 484.
The Dollar Tree distribution center would be built on the land known as The McGinley Farm. The farm was previously known for peanuts and cattle. Mr. McGinley had always said he would never sell to developers and had refused to sell to the Deltona Corporation. However, things changed after he passed away in 2003.
In 2017, the land was sold to Marion County.
Since the approval of the Florida Crossroads Commerce Park, which will destroy more than 1,000 acres of farmland in the middle of Marion Oaks, residents have asked for change.
"The site is 576 acres of a 961-acre site, a historic "out-parcel" located entirely within the Marion Oaks Vested Development of Regional Impact (VDRI) development project that makes up the Marion Oaks/McGinley Regional Activity Center (RGAC). The overall site is located on the south side of SW Hwy 484 between Marion Oaks Course and Marion Oaks Manor, and 2.75 miles west of the I-75/Hwy 484 Interchange," the Marion County Zoning Commission wrote in its plans.
Ironically, the project has been named "Project Farmer."
Residents have turned to social media groups and demanded that commissioners stop approving projects that not only destroy land and habitats but also invite crime.
Residents are worried that Ocala is quickly becoming Orlando.
Marion County Commissioner Carl Zalak spearheaded the Commerce Park Project and refused to listen to citizens who did not want the project in their backyard.
In an on-camera interview, Zalak said Marion Oaks residents were "excited." However, dozens of residents interviewed by Ocala Post stated otherwise. Most said they had not even been informed about the project. Residents expressed concerns about the increase of crime and traffic the project will bring to the area.
Ocala Post also interviewed real estate specialist Mark H., who said that these types of projects not only tend to bring crime but also lower property value for surrounding homes. He said, no one "wants to live" next to an industrial or commerce park. Mark said he has been in the real estate business for more than 30 years and much of his career in Orlando.
"Residents should be worried," he said. He added, "Especially since Ocala is now in the top 20 for most dangerous places to live in Florida."
Mark said, "In my opinion, the commission targeted a community which already has a high crime rate and many of the residents live paycheck to paycheck. I feel like the residents should have had more of a voice."
In a 2018 email to Ocala Post, Stacie Causey, Public Information Specialist for Marion County, wrote that the county did not consider Marion Oaks a high crime area, and denied that the land was chosen because of residents' socioeconomic status.
As for morning and evening traffic on County Road 484, Causey wrote, "Traffic improvement plans for this area were also part of the original plan for the community and are already in progress. Examples of proposed traffic improvement plans include interchange lane improvements, alternate routes such as the proposed Southwest 49th Avenue extension, and a future flyover at Highway 42."
Zalak contends that residents of Marion Oaks will now be able to work closer to their home instead of traveling into town.
However, many residents who live inside of Marion County do not even work in the county. Instead, they commute for much higher wages. Likewise, there are residents who work at local hospitals and other businesses who do not live in the county.
Mark said, "Residents are not going to quit a job as say, a prison guard, nurse, or teacher to work in a commerce park for less money. It just doesn't make sense."
It has also been pointed out that thousands of Marion Residents are retired.
"The writing is on the wall…Marion County is on its way to becoming Orlando," Eddie Leedy, who previously sought a seat on the BOCC, told Ocala Post during the 2018 election. "At the state level, Marion County is already being pressured to become a commerce hub. If that happens, there will eventually be a toll road through Marion County."
Leedy said a lot of taxpayer dollars have been spent on projects like AutoZone and the Florida Crossroads Commerce Park.
The commission has approved a $9 million cash incentive package, and another $900,000 in credit for permit and impact fees, toward the massive Dollar Tree distribution facility and has promised up to 700 jobs.
Unlike Polk County commissioners, who require approved distribution centers to hire a majority of the employees from within Polk County, Marion County does not set forth those same requirements.
Again, commissioners have promised jobs, but records show that the AutoZone distribution center, which was a secretive deal, is still struggling to hire employees. (You can read about the AutoZone project here.)
On Twitter and Facebook, Marion Oaks resident Theresa Gonzalez, wrote, "Somebody has to be a voice for the people. Our corrupt government and these businesses profit big from our tax dollars. This should not be allowed. Tax dollars should not be used for private business projects in which all citizens do not benefit."
Tim Johnson wrote, "I don't live in or near Marion Oaks, so I am ok with the project. Maybe it will bring more jobs."
The Florida Crossroads Commerce Park will cost more than $200 million.
We want to hear from you. What do you think about the Dollar Tree distribution center being built near Marion Oaks?