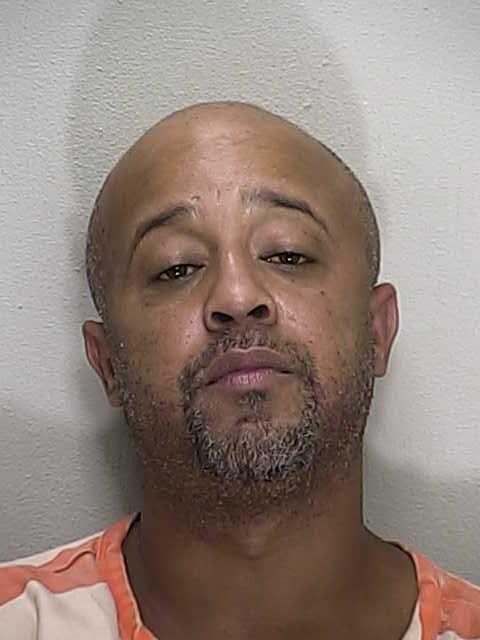 Ocala, Florida — A man was arrested today, following a traffic stop for speeding.
On August 15, 2014, Anthony Sean Howard, 46, originally from Georgia, was pulled over by Ocala Police for driving 53 mph in a 35 mph zone in the 200 block of U.S. 441.
Ocala Police Officers W. Joedicke and R. Mangum stated that as they approached the vehicle, they could smell a strong odor of alcohol emitting from inside the vehicle and that the driver's eyes were bloodshot and glassy.
According to reports, Howard was also slurring his words as he spoke.
When officers asked how much he had to drink, Howard laughed and said, "I only had one beer." Howard was then asked to step out of the vehicle.
As Officer Joedicke stepped toward the driver's door, Officer Mangum instructed Howard to remove his hands from his pockets, which Howard refused.
Howard then turned toward the camera, shoved a small baggie containing a white substance in [his] mouth, and attempted to swallow it.
Officer Joedicke grabbed Howard by the back of his neck, then using a pinching technique, he placed his right thumb and pointer finger on Howard's cheeks and applied pressure to prevent him from swallowing the substance.
Howard then began to grab the officer's arms and hands, at which time the officer put Howard into the hood of his patrol vehicle.
While Officer Joedicke was holding Howard's cheeks and restraining his arms, Officer Mangum attempted to handcuff Howard's left wrist.
Howard continued to resist, at which time Officer Mangum announced she was going to deploy her Taser. As Howard relaxed and began to comply, Mangum holstered her Taser.
Upon holstering her Taser, Howard immediately began to fight deputies. Mangum then deployed her Taser and Howard fell to the ground.
As Mangum was dry tasing Howard, in one sudden movement, Howard snatched the Taser and attempted to tase Officer Joedicke — repeatedly pulling the trigger — while the officer was still holding Howard's cheeks.
Howard then grabbed a-hold of Officer Joedicke's firearm. Officer Joedicke then released Howard's cheeks and struck the left side of his face several times until Howard released the officer's firearm.
Seconds later, additional units arrived and helped restrain Howard while Officer Mangum placed him in handcuffs.
Due to a rapid heart rate (from swallowing a baggie of cocaine), Howard was transported to Ocala Regional Medical Center for treatment. While at the hospital, Howard refused treatment and would not allow medical personnel to draw his blood.
Inside Howard's vehicle, police found Xanax and three open containers of alcohol.
Howard was charged with Destroying Evidence, DUI, Driving While License Suspended, Battery on a Law Enforcement Officer, Assault on a Law Enforcement Officer, Resting Arrest with Violence (x2), Possession of a Controlled Substance without a Prescription (x2), and Depriving a Law Enforcement Officer of a Means of Protection.
He is currently being held at the Marion County Jail on $29,000 bond.
Howard is a felon with a lengthy and violent arrest history in Marion County.
Ocala Police Chief Greg Graham said, "Our officers are faced with these situations on a frequent basis. I am proud that they were able to take him into custody with minimal force and that everyone, including Mr. Howard, ended the night safe. The officers went home after their shift to their families and Mr. Howard will be held accountable through the courts for his actions."