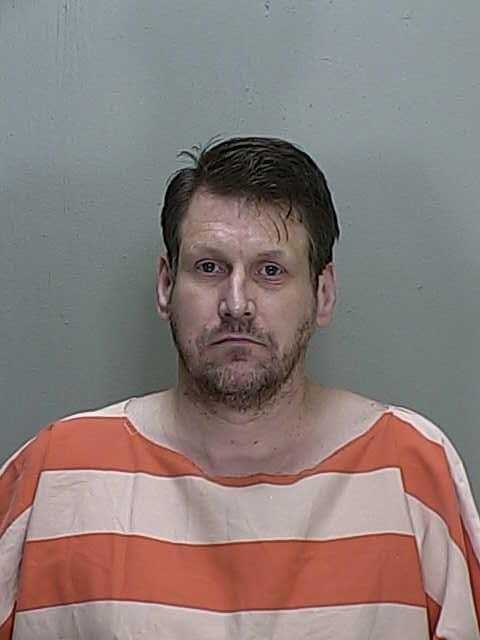 Dunnellon, Florida — The Marion County Sheriff's Office arrested a Dunnellon man for operating his own reverse sex sting operation, a tactic often used by law enforcement.
MCSO said that David W. Scalf, 45, posed as a teenage female, then attempted to extort money from pedophiles that contacted him for sex, believing him to be a juvenile female.
Here is the timeline of events:
On July 30, 2015, MCSO Sgt. Mike Dodd was conducting a sweep of advertisements on Craigslist Ocala looking for any suspicious or illegal activity.
Sgt. Dodd reported that he came across a posting in the Casual Encounters section titled "Need Revenge W4M."
The ad was an alleged 18-year-old female seeking to provide oral sex while her friend would video record the encounter. The ad stated that [it] was to get back at her ex-boyfriend for cheating. The ad was posted multiple times.
Sgt. Dodd then responded to the advertisement. A short time later, Sgt. Dodd received a reply, at which time Scalf, posing as a female, claimed to 16 instead of 18.
According to reports, Sgt. Dodd then responded back posing as a 30-year-old male who was interested in the alleged 16-year-old female. Sgt. Dodd reported that he responded in hopes of identifying the juvenile engaging adult males for felonious sexual activity.
Scalf, still posing as a 16-year-old female, then requested an actual e-mail address if they were to continue the conversation.
After receiving an undercover e-mail, Scalf sent several nude photos and set up a meeting at the Kangaroo gas station at State Road 200 and Southwest 60th Ave.
Then, Sgt. Dodd received an e-mail from a different e-mail address. That e-mail stated that because nude photos of a minor had been transmitted via e-mail, an internet child monitoring system had been alerted.
Scalf, believing that Sgt. Dodd ("victim") was a pedophile, stated that he would be arrested unless he cooperated. Scalf told Sgt. Dodd he had been granted a GGA (Goodwill Gesture Status), which meant the "victim" could pay a fine to a charity instead of being arrested.
On July 31, the "victim" received another e-mail which stated that the fine would be $4700.00 and 120 hours of community service. The "victim" was to pay the fine via PayPal or by purchasing a PayPal card. The "victim" was then supposed to send the account number from the card so Scalf could access the money.
The e-mail stated that if the "victim" did not make the payment by 4 p.m. on July 31, that the "victim" would be arrested.
Sgt. Dodd had multiple subpoenas sent to Craigslist in order to obtain information on the postings and e-mail accounts. Craigslist also provided an IP address, which provided the location of where the advertisements were posted. Additionally, Microsoft provided Sgt. Dodd with IP addresses that were associated with e-mails utilized by Scalf.
Brighthouse Networks identified the IP addresses as belonging to David King Architecture, located at Southwest 61st Avenue, Suite 400 — Scalf's place of employment.
On September 3, Sgt. Dodd secured a search warrant for the location. When units arrive on the scene, detectives made contact with Scalf in the parking lot.
A Toshiba tablet and a HTC cell phone were seized at the location.
Initially, Scalf denied any knowledge of the e-mails, but he later confessed to sending the e-mails.
Sgt. Dodd reported that, "Based on the investigation, [Scalf] utilized Craigslist to post fake ads to lure adult males to engage in perceived felonious sexual activity with a juvenile female. Upon contact, [Scalf] threatened the "victim" to pay a fine to "his charity" in lieu of being arrested. [Scalf] was very persistent with the demands and made multiple threats."
Based on this information, Scalf was arrested and transported to the Marion County Jail. He was charged with Extortion or Threats.
Scalf was released on a $2,000 bond.
A search of court records did not show a previous arrest history for Scalf.
If you were a "victim" of Scalf's extortion scheme, the MCSO would like you to give them a call at 352-368-3535.