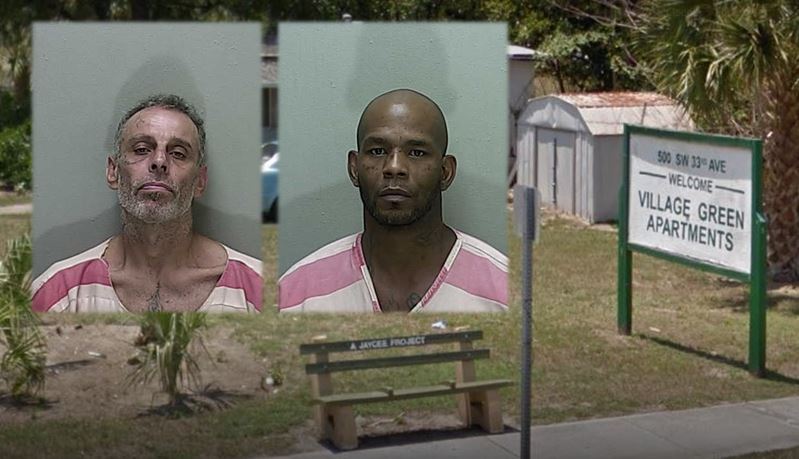 Ocala, Florida — Two felons remain behind bars after they used a master key to enter a man's apartment and severely beat him.
Ocala police were alerted to Village Green Apartments, located at 500 Southwest 33rd Avenue when the person the victim was FaceTiming witnessed the incident.
The suspects, Anthony Caban, 53, and Michael Swint, 38, were still on the scene when police arrived.
The witness told police that she overheard Swint state "I'll just f***ing kill you."
Police said Swint was armed with a .38 caliber handgun.
According to the arrest affidavit, police found the victim "drenched in his own blood."
The victim stated that Swint had broken into his apartment earlier in the day and stole his Sony PlayStation 4. The victim said he had confronted Swint and that is why Swint returned to his apartment.
When questioned, Caban, who is the maintenance man for the complex, told police that Swint had asked him for the master key to the victim's apartment.
Caban then provided Swint with the key and participated in the beating. Caban also told police that Swint was armed with a handgun and had threatened to kill the victim.
According to the victim, Swint warned him not to say anything about the beating, at which time Caban stated, "just kill him." Additionally, the victim told police that Caban pulled out a knife and cut him above the eyebrow.
Police said the victim was continually beaten for at least 15 minutes.
Caban and Swint were both arrested and charged with Armed Burglary, Aggravated Battery with Great Bodily Harm, and Aggravated Battery use of a Deadly Weapon. Swint received an additional charged of Possession of a Firearm by a Convicted Felon. He is being held on an $85,000 bond.
Caban is being held on a $65,000 bond.
According to court records, Caban and Swint have more than a dozen felony convictions.
The victim is excepted to make a full recovery.