[Hurricane Dorian update brought to you by our weather partners at AccuWeather]
Wednesday night, Hurricane Dorian pulled away from Puerto Rico and the Virgin Islands.
Dorian, continuing to gather strength, increased winds to 85 mph.
In a press release, The National Hurricane Center said the storm was about 90 miles north of San Juan and moving northwest at 13 mph as it headed for the open — and warmer — waters of the southern Atlantic.
As Dorian heads north of the Bahamas, possibly later this week, it is expected to reach Category 3 hurricane.
During a press conference On Wednesday, Florida Gov. Ron DeSantis declared a state of emergency to give officials enough time to prepare for the storm and urged all Floridians on the state's east coast to "have 7 days of supplies, prepare their homes and follow the track closely."
You can view the state of emergency here.
Article continued below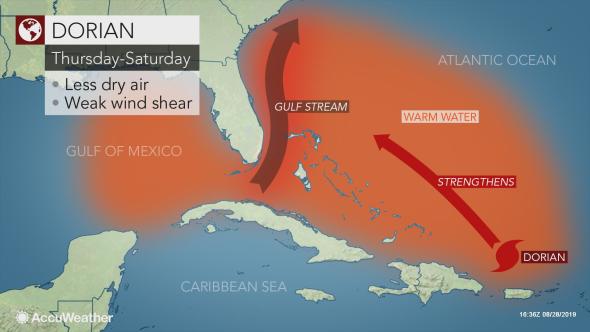 The storm made a shift to the north on Wednesday, causing its center to regenerate northeast of Puerto Rico. Therefore, this made the development of the Atlantic's first major hurricane of the 2019 season very likely.
The hurricane brought heavy rain to Puerto Rico and parts of the U.S. and British Virgin Islands on Wednesday after it battered portions of the Lesser Antilles.
On Wednesday evening, lightning was detected in the eye of Dorian.
According to the NOAA, when lightning is detected in the eye of a hurricane, it is usually an indication of rapid strengthening.
The NOAA said moving into the warm waters of the southern Atlantic will provide the right conditions for Dorian to continue strengthening.
Meteorologists are forecasting that Dorian will be a major hurricane before making landfall as a Category 3 because water temperatures in Dorian's path range from 84-86 degrees Fahrenheit..the perfect fuel for a hurricane.
More updates to come!