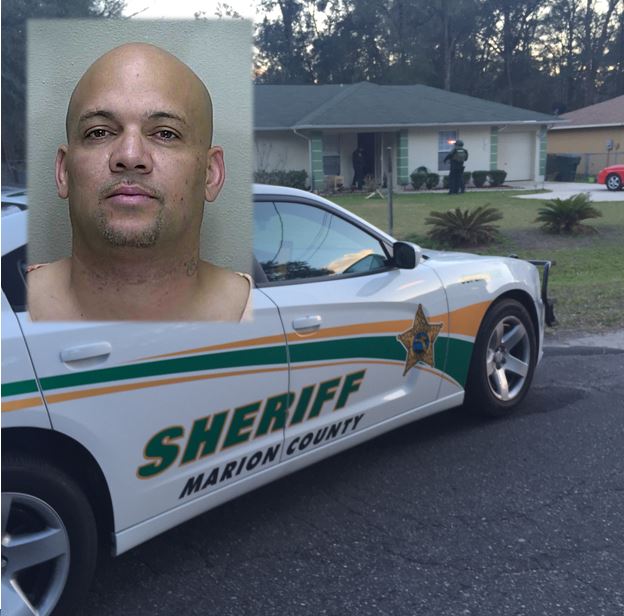 Ocala, Florida — On Tuesday, Marion County Sheriff's Office deputies arrested Jose Rene Marrero, 42, for Aggravated Domestic Battery with the Use of a Deadly Weapon, Kidnapping/False Imprisonment and Resisting an Officer without Violence.
According to reports, MCSO deputies were dispatched to 5478 Northwest 62nd Place, in Ocala Park Estates in reference to a verbal disturbance.
The victim had called 911 and stated that Marrero was trying to kill her. The victim stated that he had attempted to stab her, but then left the residence. Marrero returned a short time later and made entry to the residence after he kicked the front door off the hinges.
When deputies arrived, Marrero was inside the residence holding a knife to a female victim's throat.
Marrero made statements to deputies that he was going to kill the victim and took the victim into a bathroom located within the residence.
Deputies were able to breach the door and confirm the victim was alive, at which time began a dialogue with Marrero.
MCSO's SWAT Team and Crisis Negotiation Team were then called to the location.
According to reports, MCSO Crisis Negotiators spoke with Marrero for approximately two hours and were eventually able to convince Marrero to release the victim.
Marrero surrendered and was taken into custody without further incident.
In addition to the aforementioned charges, Marrero was also charged with Violation of Probation in for a prior domestic altercation.
Marrero wanted to kill the woman after she had asked him to leave her residence because he was abusive.
Marrero is being held without bond.
"Hostage situations are one of the toughest circumstances for law enforcement to handle. Many hours of training are put in by our dedicated employees to prepare for moments like this," said Sheriff Chris Blair. "I am proud of the men and women of the Marion County Sheriff's Office in ensuring this incident had a peaceful resolution. I know that our citizens appreciate the great level of professionalism their deputies demonstrate each and every day."
According to state records,  Marrero plead guilty on February 3, to Aggravated Battery with a Deadly Weapon, but was not sentenced to jail time. Instead, he was sentenced to five years probation.