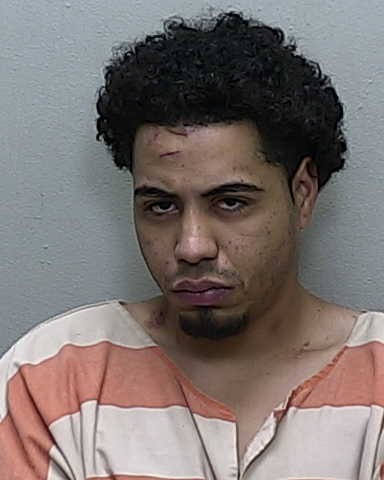 Marion County — A witness of a crash kept a suspect from fleeing the scene by using his vehicle to block the man in, according to a newly released report.
On January 6, at approximately 6:50 p.m., Florida Highway Patrol troopers were called to a multi-vehicle collision on SR 200 at the intersection of SW 60th Ave.
Upon arrival, the trooper learned that the suspect, identified as Jose Vaillant, 24, had fled the scene on foot after his vehicle was blocked by a witness.
Vaillant was picked up not far from the crash site by another law enforcement agency.
While speaking with Vaillant, he told the trooper that he was not driving the vehicle. Instead, he stated that his girlfriend, Ashley, was driving. However, witnesses said no one else was in the vehicle with Vaillant.
A witness stated, "He was the only person in the car. The driver's door was stuck and I had to open the passenger door to help [Vaillant] out of the car. He then told me that his license was revoked and he was not going back to jail."
The witness said that's when Vaillant attempted to start his vehicle and drive off. Another witness then used his vehicle to block Vaillant from leaving.
Vaillant had slurred speech, bloodshot eyes, had difficulty standing, and reeked of alcohol, according to the arrest affidavit.
When Vaillant was placed in the back of a troopers patrol car, the trooper said that Vaillant "displayed several mood swings."
"He went from calm to hysterically cry, to extreme aggression," the trooper said.
While in the back of the car, troopers say Vaillant began slamming his head against the cage. He then got on his back and began violently kicking the windows. The decision was then made to put Vaillant in leg restraints.
Troopers said that after he was retrained, he screamed, "I hope somebody kills your mom and dad bi*ch and I will remember your face ni*ga."
Troopers said that due to the level of aggression Vaillant was displaying, they could not continue their DUI investigation.
Vaillant was arrested and charged with DUI with Property Damage, Hit and Run, Driving on a Revoked License, Threatening a Public Servant or Family, and Resisting with Violence. Vaillant also violated his bond conditions from an arrest in Sumter County.
He remains in the Marion County Jail.
Vaillant is a convicted felon with a history of resisting arrest.