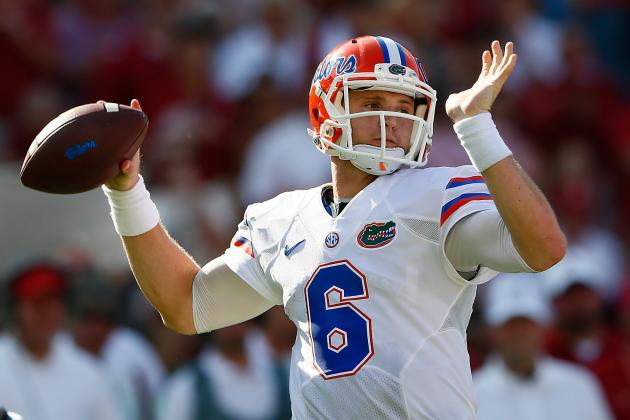 The Florida Gators suffered their first loss of the season on Saturday to Alabama 42-21.
The Gators were able to force four turnovers against Alabama and turn them into 21 points, while the Gators had three turnovers of their own with two coming from interceptions off of quarterback Jeff Driskel.
The Gator secondary could not stop Alabama receiver Amari Cooper who had yet another great game finishing with 10 catches for 201 yards and 3 touchdowns.
Alabama quarterback Blake Sims just had a field day against the Gators throwing for 445 and 4 touchdowns. Backup quarterback Jake Coker had a four yard touchdown pass of his own against the Gators.
The Gators had trouble on third-down all game as they only converted 2 of 13 third-downs. Florida's defense also had trouble getting off the field on third-downs as the Crimson Tide converted 12 of 16.
Alabama finished with a total of 645 yard while the Gators finished the game with only 200 yards.
Scoring Summary:
Sims 87 yard pass to Drake for a touchdown (ALA 7 FLA 0) 13:47 remaining in 1st quarter
Driskel 28 yard pass to Showers for a touchdown (ALA 7 FLA 7) 11:26 remaining in 1st quarter
Sims 7 yard pass to White, White fumbled, recovered by Neal, returned 49 yards for a touchdown (ALA 7 FLA 14) 9:24 remaining in 1st quarter
Sims 79 yard pass to Cooper for a touchdown (ALA 14 FLA 14) 4:12 remaining in 1st quarter
Sims 2 yard pass to Fowler for a touchdown (ALA 21 FLA 14) 7:19 remaining in 2nd quarter
Driskel 14 yard run for a touchdown (ALA 21 FLA 21) 12:42 remaining in 3rd quarter
Henry 3 yard run for a touchdown (ALA 28 FLA 21) 5:27 remaining in 3rd quarter
Coker 4 yard pass to Cooper for a touchdown (ALA 35 FLA 21) 0:21 remaining in 3rd quarter
Sims 6 yard pass to Cooper for a touchdown (ALA 42 FLA 21) 10:10 remaining in 4th quarter
—By Brandon Wilson—