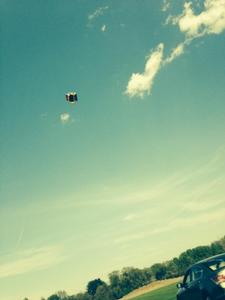 South Glens Falls, New York – Two young boys and a girl were injured after a 10 x 10 "bouncy house" that witnesses claim was secured, was swept away by a gust of wind Monday afternoon. Parents watched in horror as the wind lifted the "bounce house" 50 feet into the air.
The girl, 10, fell out first and only sustained minor cuts and scrapes. One of the boys, 6, landed on a parked car and the other boy, 5, landed on asphalt. Both boys were transported to the hospital with serious injuries.
According to police, the boys were at least 20 feet in the air when they fell out of the "bounce house."
The incident happened around 3:30 p.m. in front of a townhouse on Ferry Boulevard. Parents say the "bouncy house" floated over a stretch of woods and landed in the fields behind Oliver W. Winch Middle School.
A witness snapped a picture of the bounce house in mid-air.
Police say the boys are expected to make a full recovery.