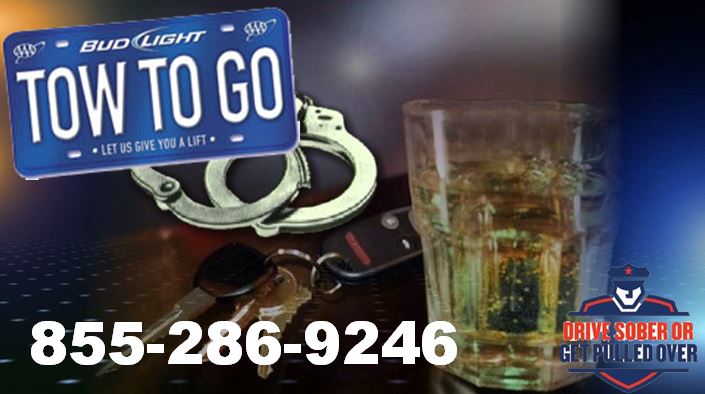 The Florida Highway Patrol will be out in full force this New Year's, looking for drunk drivers.
FHP said with all of the services available, there is no excuse for drunk driving.
Since its inception in 1998, Tow to Go has safely removed more than 23,000 intoxicated drivers from the roads. The service is designed to be used as a last resort. It is offered based on availability of AAA Service Technicians and tow trucks during times of high call volume.
What is provided:
Confidential local ride within a 10-mile radius to a safe location

Service is provided in Florida, Georgia and Tennessee

Free and available to both AAA members and non-members

The AAA tow truck takes the vehicle and the driver home
The Auto Club Group and Bud Light provide the Tow to Go service to discourage an intoxicated driver from getting behind the wheel and risking the lives and safety of other motorists. Not only does Tow to Go remove the intoxicated driver—it also enables AAA and Bud Light to remind the public to always choose a designated driver for a safe ride home.
Important Tow To Go Guidelines:
Tow trucks can take up to two people home; if there are more people in your party—you will need to make other arrangements to get home safely.

You can't make an appointment to use the Tow to Go service, it is designed to be used as a last resort so have a designated driver before you have your first drink.

It may be necessary, in certain situations, for AAA to contact a cab company or local law enforcement to assist with getting the intoxicated individual a safe ride.
Tow to Go is a program of the Auto Club Group Traffic Safety Foundation. The mission of the Foundation is to produce a significant and continuous reduction in traffic crashes, injuries, and deaths in the communities targeted by our efforts.
Rides will be available until 6 a.m. January 1, 2015. If you find yourself needing a ride, don't drink and drive; instead, call 855 -2-TOW-2-GO or 855-286-9246.