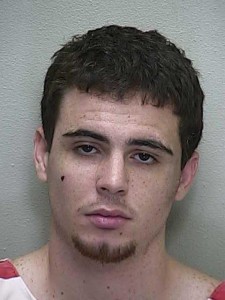 Marion Oaks, Florida — Eddie Alexander Martinez-Perez, 22, of Ocklawaha is under arrest after a mother woke to find him in bed with her 14-year-old daughter.
The incident occurred in Marion Oaks around 5:30 a.m. the girl's mother tried to enter her daughters room but the door was locked. When the girl finally opened the door she found Perez in her daughters bed wearing only boxers.
The father and Perez scuffled and Perez suffered a cut to his cheek.
According to reports, the girl told her parents the two didn't have sex. However the story changed when the girl was interviewed by Kimberly's Center for Child Protection.
According to reports the girl told investigators that Perez kissed her all over her body, digitally penetrated her, and touched his penis to her vagina over her underwear. According to reports, Perez made contact with the girl on more than one occasion.
When detectives questioned Perez post Miranda he admitted that he had entered the girls bedroom through her window. Perez told investigators that he got into bed with the girl and the two played games on her cell phone. Perez also told investigators that the two wanted to be together as a couple.
According to reports, when detectives asked Perez exactly what had happened with the girl he admitted to kissing her and sneaking in through her window. He then layered up and ended the interview.
Perez was charged with two counts of felony Lew or Lascivious Battery.