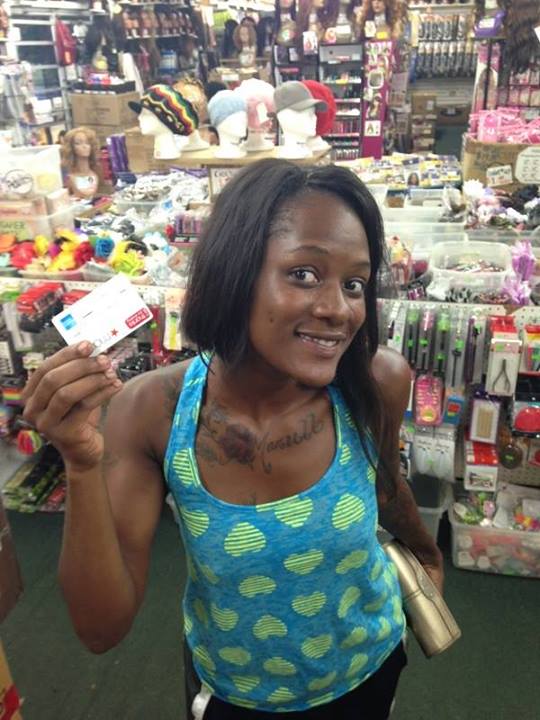 Ocala, Florida — One of Ocala's dumbest criminals smiled for a photo after the store clerk became suspicious of a transaction.
The woman in the photo was seen posing with a stolen Amex Express Macy's credit card. The wallet she was holding was also stolen.
According to reports, the woman used the stolen card to purchase more than $400 in beauty supplies from Looking Good Beauty Supply, located at 1971 West Silver Springs Boulevard.
The clerk told police that he became suspicious after the suspect could not produce a state ID, but instead showed a picture of the victim she had stolen the credit cards from.
He said he asked if he could take a picture with the suspect holding the card and she happily obliged.
The Amex was also used at a Citgo gas station and Family Dollar.
The thief also used the victims Sam's Club credit card.
Ocala Police Department Detective Mark Proco, is the lead on the case.
The woman is heavily tattooed and provided a clear photo of her soon-to-be mug shot.
If you know the woman in the photo you are asked to contact the Ocala Police Department by calling 352-369-7000; by contacting Crime Stoppers of Marion County at 352-368-STOP(7867), www.ocalacrimestoppers.com; or by texting tips to 274637 using keyword 368STOP. Anonymous tips can also be submitted through the OPD mobile app, MYPD, which can be downloaded on Apple and Android devices.
Ocala police are asking for everyone's help in sharing the photo on social media.