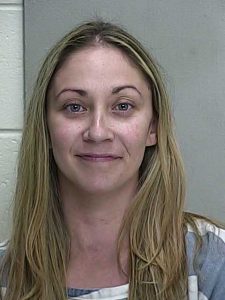 Ocala, Florida — On April 26, 2014, Officer Pitman responded to a single vehicle crash with injuries at the intersection of SW 10th Street and SW 27th Avenue.
When Officer Pitman arrived, he saw a white Chevy Malibu that had crashed into a tree that was in the median. The vehicle had severe front end damage, according to reports.
Officer Pitman made contact with the driver, later identified as Erica Peluso, 28, of Ocala as she was attempting to remove her six-year-old from the back seat. A witness, of whom was assisting with the accident, was in possession of Peluso's other child that is two-years-old.
According to the witness, Peluso was driving with the two-year-old in [her] lap when the crash occurred.
According to reports, the six-year-old that Peluso was attempting to remove from the vehicle is autistic and did sustain injuries during the crash. The child was bleeding profusely from his head and was inconsolable, according to reports. Officer Pitman advised Peluso not to move the child to prevent further injury.
The two-year-old boy also had a laceration on his forehead.
In the car, there was hair from Peluso's head hanging from the rear view mirror where her head hit the windshield causing it to crack.
Once Marion County EMS and the Ocala Fire Department arrived on the scene, Peluso refused to allow them to treat the children's injuries. She stated she had gauze at her house.
During the crash investigation, Officer Pitman noticed Peluso was unsteady on her feet and also smelled alcohol coming from the interior of the vehicle. Officer Pitman also stated that Peluso made some very questionable statements during the investigation that showed a total disregard for the children's well being.
According to reports, Peluso said, "I just washed the car, and now he (her child) put his bloody hand prints all over my car."
Officer Armstrong arrived on the scene and conducted a DUI investigation. Peluso failed all of the field sobriety tests and was clearly unsteady of her feet, according to reports.
Peluso continued to refused medical treatment for her children, however, the decision was made to transport them to MRMC where the autistic child received several staples to close the laceration on his head.
Peluso was arrested and taken to the Marion County Jail where she submitted to a breathalyzer test and blew a .260, which is more than three (3) times the legal limit of .08 in Florida.
She was charged with DUI and Two (2) Counts of Child Neglect. The Department of Children and Families has been notified, but they have not taken custody of Peluso's children. DCF said they are working with law enforcement and this is still an open investigation.
Peluso was released on $4,500 bond.