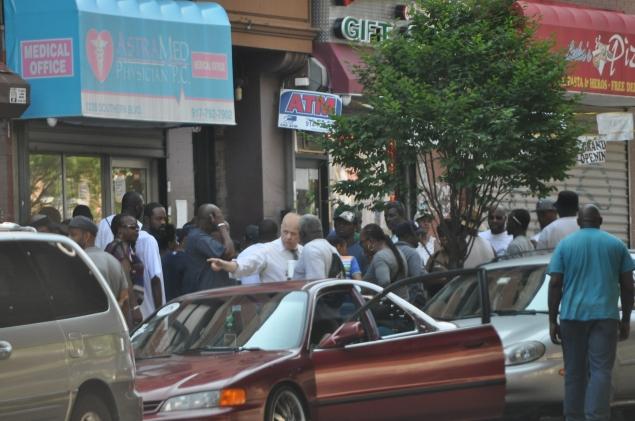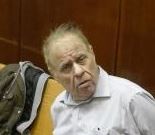 New York – James J. Hunt, the Acting Special Agent-in-Charge of the New York Field Division of the U.S. Drug Enforcement Administration ("DEA"), Preet Bharara, the United States Attorney for the Southern District of New York, Bridget G. Brennan, the Special Narcotics Prosecutor for the City of New York ("SNP") and William Bratton, the Police Commissioner of the City of New York ("NYPD"), announced today the unsealing of an Indictment against 24 defendants in connection with a massive drug distribution ring that operated out of a purported medical clinic with multiple locations in the Bronx, New York, known as "Astramed," and unlawfully distributed more than five million tablets of the prescription painkiller Oxycodone over a three-year period. The participants in the distribution ring included doctors, clinic employees, and drug traffickers who oversaw crews of "patients" who they sent into the clinics in order to obtain medically unnecessary prescriptions. The prescriptions were then filled at pharmacies, and the resulting pills resold on the streets of New York and elsewhere.
Twenty-one defendants were arrested yesterday in connection with today's charges. The defendants will be presented in Manhattan federal court before U.S. Magistrate Judge Gabriel W. Gorenstein later this afternoon. Related charges against one of the clinic doctors were also unsealed today by SNP. The defendant is expected to be arraigned later today in Manhattan Supreme Court before Judge Bruce Allen.
Authorities said Dr. Robert Terdiman was selling Oxycodone to drug addicts as well as drug dealers. The dealers would by them from Terdiman then turn a high profit by selling them on the street. Delaers and addicts would drive from other states including Florida to buy Oxycodone from Terdiman, according to reports.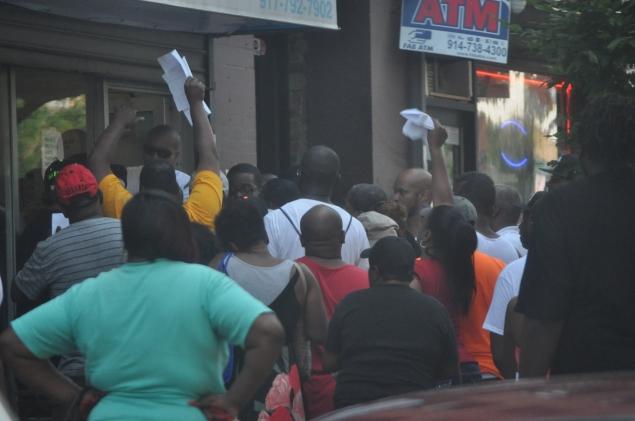 According to federal court documents, when one doctor announced he would not be accepting any additional "patients," he was "threatened at gun point just outside of the Westchester Avenue Office by three masked individuals upset that [he] was not writing more medically unnecessary prescriptions."
Officials said they have never seen anything like it.; its like the state of Florida in one town.
DEA Acting Special Agent in Charge James J. Hunt said, "Twenty two arrests, the dismantlement of the largest pill mill in the northeast and the ability for residents living near Southern Boulevard and Westchester Avenue in the Bronx to reclaim their neighborhood from drug dealers are the end results of unified police work by local, state and federal law enforcement in New York. I commend the diligent work of the numerous law enforcement agencies who participated in this investigation."
Manhattan U.S. Attorney Preet Bharara said: "The world of prescription drug trafficking is looking more and more like the world of old-school trafficking in narcotics like heroin, cocaine and crack. In this case, the drug spot was a clinic controlled by traffickers, often through intimidation and violence. The traffickers were supplied with prescriptions by corrupt doctors and clinic employees, dispensed to lower-level 'pretend' patients so that massive quantities of Oxycodone could be distributed wherever the most money could be made, often in communities hundreds of miles away. This is poison by prescription, and the volume and money allegedly involved would make hardened illegal drug traffickers envious – over 31,000 medically unnecessary Oxycodone prescriptions for 5.5 million tablets sold with a street value between $170 million and over half a billion dollars. Even legal drugs illegally obtained can be deadly, and more people have been dying from prescription drug abuse than heroin and cocaine combined. Unnecessary painkillers can simply end up being killers. This has to stop and we will do everything we can to stop it."
Special Narcotics Prosecutor Bridget G. Brennan said: "These clinics have long been a source of community concern and complaints. Dr. Robert Terdiman is charged with selling prescriptions for highly addictive painkillers on a scale we have not seen before – flooding the black market with Oxycodone carrying a street value of over $90 million. Not only is he charged with perpetuating a practice that did little to heal and much to harm, both he and The Clinic reaped huge profits. We would like to recognize the extraordinary commitment and dedication of all of the agencies that participated in this investigation."
NYPD Commissioner William Bratton said: "Instead of abiding by the Hippocratic Oath, these doctors scheduled pseudo physical exams for greed and self-profit. They fueled a criminal operation which distributed highly addictive prescription drugs in the Bronx community and surrounding areas. Thanks to the investigators and prosecutors in this case, Lowe and his crew will no longer traffic illegal drugs."
According to the allegations contained in the Indictment and other documents unsealed today in Manhattan federal court:
Oxycodone is a highly addictive, prescription narcotic-strength opioid used to treat severe and chronic pain conditions. More than 13 million Americans abuse Oxycodone, with the misuse of prescription painkillers such as Oxycodone leading to as many as 500,000 annual emergency room visits. Oxycodone prescriptions have enormous cash value to street level drug dealers, who can fill the prescriptions at most pharmacies and resell the resulting pills at vastly inflated rates. Indeed, a single prescription for 180 30-milligram Oxycodone pills has an average resale value in New York City of more than $6,000, and up to $18,000 in nearby states.
From approximately January 2011 until January 2014, a drug distribution ring centered at "Astramed," a purported medical clinic with multiple locations in the Bronx, including a primary location on Southern Boulevard (the "Clinic"), unlawfully diverted and trafficked millions of Oxycodone tablets, which netted participants in the distribution scheme hundreds of millions of dollars in proceeds.
Astramed was owned and operated by KEVIN LOWE, a medical doctor, who reaped millions of dollars by charging cash for the thousands of medically unnecessary prescriptions written by the clinic doctors (the "Doctors"). The Doctors were corrupt, Board-certified, state- licensed doctors who, in exchange for cash, were willing to write medically unnecessary prescriptions for large quantities of Oxycodone. The Clinic typically charged $300 in the form of a money order for "doctor visits" that usually lasted just a minute or two, involved no actual physical examination, and consistently resulted in the issuance of a prescription for large doses of Oxycodone, typically 180 30-milligram tablets, or a daily dosage of six 30-milligram tablets. Indeed, the Doctors, who worked directly for LOWE, were paid only for each prescription they wrote – rather than for each patient they saw – and they were paid nothing if they did not write a prescription.
Various employees of the Astramed clinics controlled access to the Doctors and created false documents in exchange for cash payments. To avoid detection by law enforcement, the Doctors sometimes asked the "patients" for medical documentation, such as MRIs, purporting to document injuries, or urine samples purporting to show that the "patient" was taking Oxycodone. Fake MRIs and urine samples were sold by members of the conspiracy to Astramed's "patients," typically inside the Clinic or immediately outside its premises.
The Clinic itself bears little resemblance to a standard medical office. For example, on a daily basis during the time set forth in the Indictment, crowds of up to one hundred people gathered outside the Clinic, clamoring to see one of the doctors at the clinic and thereby get a prescription for Oxycodone. The majority of these individuals had no medical need for Oxycodone, or any legitimate medical record documenting an ailment for which Oxycodone would be prescribed. Instead, most of these individuals were members of "crews" – that is, they were recruited and paid by high-level drug traffickers, Oxycodone distributors (the "Crew Chiefs"), to pose as "patients" in order to receive medically unnecessary prescriptions from the Doctors. The Crew Chiefs then arranged for and oversaw the filling of the resulting prescription at various pharmacies and took possession of the Oxycodone pills to be resold on the street. Crew Chiefs also paid the Clinic's employees hundreds of dollars in cash at a time to get their Crew Members into the Clinic to see one of the Doctors. The Crew Chiefs maintained their joint control over the operations of the Clinic, in part, as a result of intimidation and the threat of violence.
In total, between approximately January 2011 and January 2014, Astramed Doctors issued approximately 31,500 medically unnecessary prescriptions for Oxycodone, comprising nearly 5.5 million Oxycodone tablets with a street value of up to $550 million. LOWE alone collected nearly $12 million in fees for "doctor visits" during this time period. Based on the street market value of the pills distributed, the participants in the distribution ring together made hundreds of millions of dollars as a result of the clinic fees charged and the proceeds obtained from the resale of the illegally obtained oxycodone.
All of the defendants are charged with one count of conspiracy to distribute and possess with intent to distribute Oxycodone, which carries a maximum sentence of 20 years in prison.
A chart containing each defendant's age and residence information is attached. The case is assigned to U.S. District Judge Lorna G. Schofield.
Mr. Bharara thanked the DEA and the NYPD for their work in the 15-month investigation, which he noted is ongoing. Mr. Bharara also thanked, the Office of the Special Narcotics Prosecutor for the City of New York, the Town of Orangetown Police Department, the Westchester County Police Department, the United States Department of Health and Human Services, the United States Marshals Service, the New York State Health Department's Bureau of Narcotic Enforcement, the Office of the Medicaid Inspector General, New York City's Human Resource Administration, the New York State Attorney General's Office Medicaid Fraud Control Unit, Beacon New York Police Department, the Internal Revenue Service-Criminal Investigation and the El Dorado Task Force for their assistance.
The case is being prosecuted by the Office's Narcotics Unit. Assistant U.S. Attorneys Edward B. Diskant and Tatiana R. Martins are in charge of the prosecution. Assistant U.S. Attorney Micah Smith of the Office's Asset Forfeiture Unit is responsible for the forfeiture of assets.