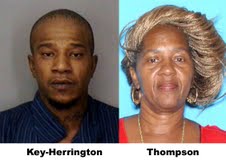 Polk County, Florida — Detectives with the Polk County Sheriff's Office are asking for help from the public with an Attempted Murder Investigation.
At approximately 6 a.m., on Saturday, September 21, 2013, a shooting incident occurred in the area of Edwin Street, NE Winter Haven.
31-year-old Kelvin Lewis Key-Herrington of 518 Sears Avenue NE, Winter Haven, was identified as the shooter. The victim was transported to a local hospital to be treated for an injury to the hand.
66-year-old Deborah Mobley Thompson, Key-Herrington's grandmother of 213 Avenue P NW, Winter Haven, approached a witness shortly after the incident and threatened the witness with violence if her grandson was identified as the shooter.
There are active warrants for the arrest of both Kelvin Key-Herrington and Deborah Thompson. Key-Harrington is facing charges of Attempted Murder, Shooting into an occupied Vehicle, Tampering with a Victim and Possession of a Firearm by a Convicted Felon. Thompson is facing charges of Tampering with a Witness.
Both are considered to be armed and dangerous.
A $3,000 reward is being offered for the capture of Kelvin Key-Herrington.
Anyone with information in the whereabouts of Key-Herrington and Thompson is urged to contact Detective Jacob Alderman at 863-297-1100, or 863-298-6200.
ANYONE WITH INFORMATION WHO WANTS TO REMAIN ANONYMOUS AND BE ELIGIBLE FOR A CASH REWARD IS ASKED TO CALL HEARTLAND CRIME STOPPERS AT 1-800-226-TIPS