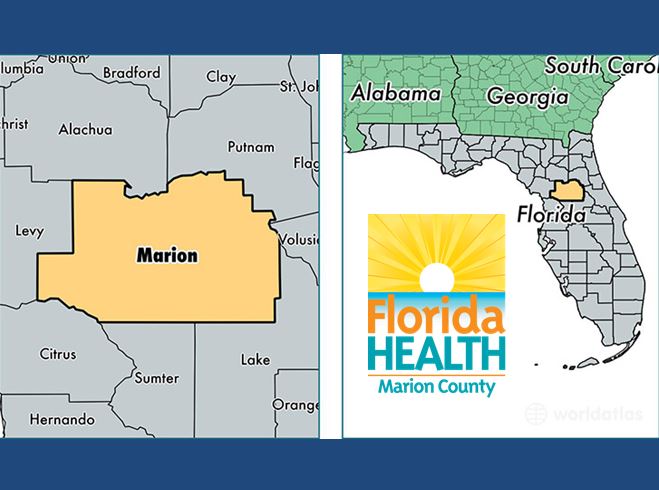 OCALA, Fla.— DOH-Marion is reporting 315 cumulative cases of COVID-19 as of Monday. The most recent individuals confirmed to have the virus are:
27-year-old male from Ocala
45-year-old female from Ocala
54-year-old female from Ocala
55-year-old male from Dunnellon
56-year-old female from Silver Springs
57-year-old female from Ocala
So far, 18,818 COVID-19 tests have been given in Marion County. Of those, 18,496 were negative. Individuals who tested positive for the virus have ranged in age from 6 months to 97 years old. Eight Marion County residents have died after becoming ill with COVID-19. Marion's overall positive test rate is 1.7%; Florida's positive test rate is 5.4%.
The zip codes with the highest number of cases in Marion County are:
34471 (Ocala): 35
34491 (Summerfield): 35
34472 (Ocala – Shores area): 32
34474 (Ocala): 30
34476 (Ocala – Shady area): 27
34473 (Ocala – Marion Oaks area): 26
For more detailed information visit the COVID-19 Survielience Dashboard.
Test results for more than 34,300 individuals were reported to DOH as of midnight, on Sunday, June 14. at 11 a.m., there were:
1,758 new positive COVID-19 cases (1,738 Florida residents and 20 non-Florida residents)
7 Florida resident deaths related to COVID-19
The percent of those testing positive for COVID-19 overall is 5 percent. On June 14, 5.4 percent of new cases** tested positive.
There are a total of 77,326 Florida cases*** with 2,938 deaths related to COVID-19.
Since data reported at 11 a.m. on June 15, the deaths of seven Florida residents who tested positive for COVID-19 have been reported in Broward, Indian River, Palm Beach, and Volusia counties.
Florida long-term care facility data:
The list of long-term care facilities with active COVID-19 cases is available here.
The list of long-term care facilities with deaths is available here, which is updated weekly.
To date, 1,546 individuals that were staff or residents of a long-term care facility have died.
The antibody COVID-19 test results report will be provided once a week and contains county, race, and lab information on antibody COVID-19 tests conducted in Florida. The report for antibody tests conducted by private health care providers is available here and the report for antibody tests conducted at state-supported COVID-19 testing sites is available here.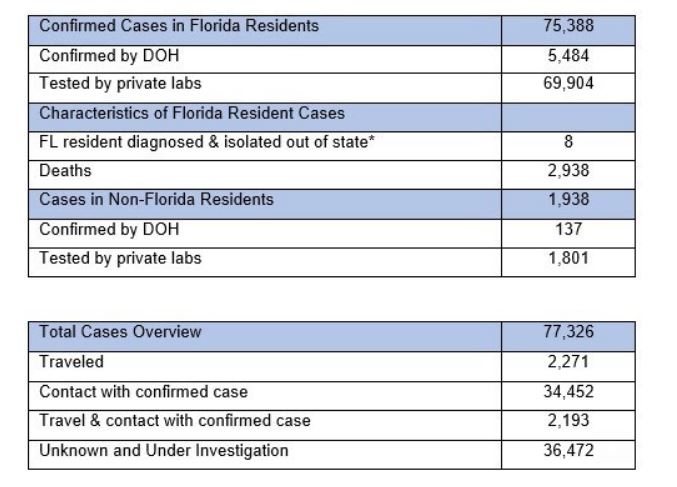 * Florida residents that are diagnosed with COVID-19 and isolated out of state are not reflected on the Florida map.
**This percentage is the number of people who test positive for the first time divided by all tests, excluding people who have previously tested positive.
***Total cases overview includes positive cases in Florida residents and non-Florida residents tested in Florida.