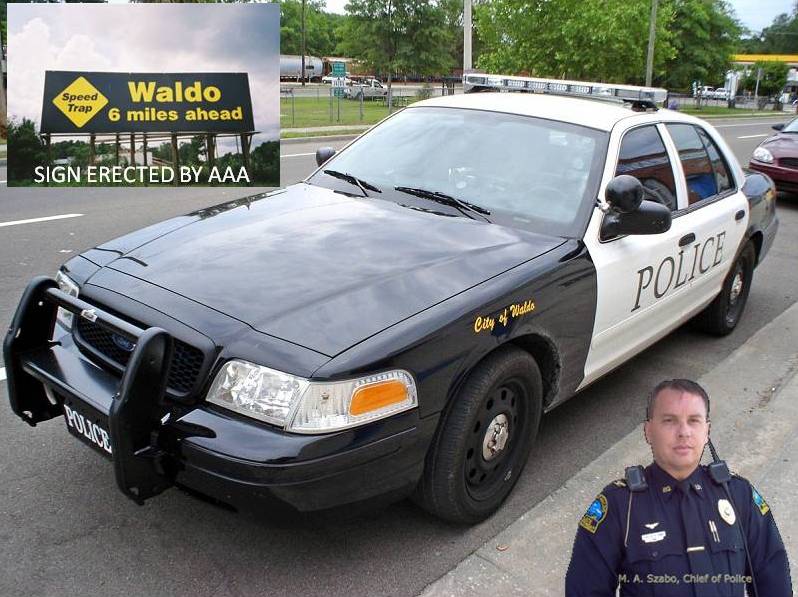 [Last updated on June 17, 2015, at 5:44 p.m.]
Waldo — Despite five officers coming forward, hundreds of complaints from citizens, warnings from the American Automobile Association (AAA), and a book that ousted the Waldo Police Department; former Waldo Police Chief Mike Szabo has been cleared of any wrongdoing.
In addition to the officers coming forward, there were also dozens of damning e-mails proving the corruption.
However, the Criminal Justice Standards and Training Commission (CJSTC) found that Szabo did not violate any of its standards.
Oddly enough, the police department was shutdown in October of 2014.
In a letter dated June 5 to Waldo City Manager Kim Worley, CJSTC Training and Research Manager R. Stacy Lehman wrote, "The decision is based upon the finding that insufficient grounds exist under the guidelines of Chapter 943.1395, Florida Statutes, to pursue any disciplinary action by the commission."
In August, five Waldo Police Officers told the city council that they had been under strict orders to meet quotas for traffic tickets under the command of Szabo and Worley.
The officers also told the council about illegal tactics used to write tickets and how Szabo did not follow protocol and kept a cooler in his office filled with drugs that had been seized instead of keeping them properly locked in evidence.
"Anyone could have access to the cooler, even the cleaning crew," Officer Brandon Roberts said.
Szabo was also accused of stealing city-owned video surveillance equipment to watch his personal apartment and frequently stealing hotel towels while on "city business." This was something that many say Worley knew about, but turned her head.
Waldo police have also been accused of illegally coercing people into police searches of their vehicles, often times pulling motorists from their vehicles and cuffing them while their vehicles were searched.
Many motorists complained that Waldo police used the "I smell marijuana" tactic to illegally search their vehicle. However, in most cases, no marijuana was found.
When the Department was shutdown, State Attorney Bill Cervone said, "Shutting down the agency was the right thing to do in order to avoid further embarrassment to the town."
Worley claimed that she didn't know what was going on within the agency, but officers disagreed.
Officers say Worley assisted Szabo in his corruption and that Szabo's orders came directly from Worley.
The officers that blew the whistle on the corruption in the small town said it was worth losing their jobs because it was the right thing to do. However, officers are extremely disappointed that Szabo will not face any charges, and that Worley was never investigated for her part in the corruption.
"It's a slap in the face and CJSTC should be ashamed," one officer wrote via e-mail.
Because CJSTC found no moral character violations on Szabo's behalf, he will be able to keep his law enforcement certificate.
Florida statutes gives the CJSTC authority to discipline the certification of a law enforcement officer only if a moral character violation exists. Additionally, the CJSTC rule states that when the facts presented to Commission staff are inconclusive, lack reliability, are insufficient to permit a reasonable determination of what occurred, or fail to demonstrate that the alleged misconduct meets the statutory criteria for Commission action, Commission staff shall "no cause" the case.
The case has been closed.