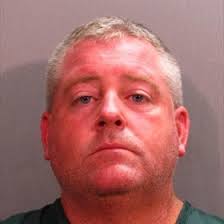 Jacksonville, Florida — A forensic investigator has been arrested after reports of jewelry of a deceased woman being stolen led investigators directly to him.
Agents from the Florida department of Law Enforcement arrested Christopher Dwight Allen, 46, of St. John's on September 13, 2013, on charges of official misconduct, dealing in stolen property, and false verification of ownership on pawnbroker transaction forms.
The investigation began back in May of 2013, after family members of a Hamilton County woman claimed several pieces of jewelry; a ring, watch, and necklace had been stolen from their loved one following her death.
Agents reviewed pawn broker transactions that indicated Allen sold over 60 items of jewelry to various pawn shops within the last 12 months according to FDLE reports.
Allen worked as a forensic investigator at the District 4 Medical Examiner's Office in Jacksonville and investigators suspect at least some of the items pawned were stolen from deceased persons he had access to at the facility.
Allen was arrested at the medical examiner's office around 7:30 Friday morning and booked into the Duval County Jail on a $150,009 bond.